Fender Jazzmaster Electric Guitar
CHECK PRICE ON
AS FEATURED IN
Reviews
Trusted musician and artist reviews for Fender Jazzmaster Electric Guitar
5.0
Based on 15 Reviews
The guitar that found it's way.
Since first identifying Robert Smith of The Cure playing an Olympic White Jazzmaster in their earliest albums, I was fascinated by this instrument. To later see them wielded by Sonic Youth, Dinosaur Jr, My Bloody Valentine and Swervedriver, it seems that Leo Fender's ill fated jazz intentions had found their true home in the Alternative and Indie music scenes. Tonally quite thin, the Jazzmaster handles effects brilliantly, chiming with chorus or letting a fuzz clear its throat. The floating tremolo allows for ample movement up and down; from a few tones up, to slack on the fretboard slams, the guitar handles it all and bounces back in tune for the next round. The trem can even be locked into position if you want to disengage it for more tuning stability The most definable feature is the rhythm circuit. Running independently to the 3 way selector switch, it comes with it's own dedicated volume and tone sliders. This circuit can be used to simply toggle two settings in instrument tone, provide a rhythm at an attenuated volume or can serve as a killswitch when the volume is disengaged, bypassing even the noisiest of pedal combinations. Lightweight and comfortable to play sitting or standing, the Jazzmaster is a guitar to fall in love with.
My main guitar right now.
My Jazzy is a 97 CIJ Jazzmaster. It has the Mastery bridge upgrade (a must on these guitars). Has Curtis Novaks in it currently and sounds amazing! Neck fits my hand great (I have larger hands)! Love the way this thing plays and sounds! I will be adding the Mastery Vibrato later and may try out some Kinman Fatmaster pickups.
A truly great guitar
Now, I have heard many things about Jazzmasters. Many say it is flawed because of it very loud 60 cycle hum. But honestly these are problems that are very easily handled. But they truly are great guitars. With a 3 way switch it can't get any simpler. It also has a awesome jazz circuit that really cuts out highs and changes the guitar greatly. Honestly all you need to do is put this guitar in the middle position and you're ready to go.
LOVE IT!
Its my favorite guitar I've owned! Very versatile sound. The bridge kind of sucks if I'm rocking out real hard sometimes I knock the E off of the bridge which probably shouldn't be happening but besides that its really great!
get a mastery bridge for it
because all JMs and Jags with the classic 60s bridge have the problem you're talking about:
http://www.masterybridge.com/offset-bridge/
Excellent
1990s Japanese Fender Jazzmaster, refurbished in 2015 with a new bridge and one Seymour Duncan pickup.
great guitar
Pat has used this instrument occasionally since the bands formation, with its use on the riff for "Rose Colored Glasses" back in our days of The Local Blues Band, to it's use on our corrosive punk song "Bomb Cyclone Vol. 1", it has featured on/off over the years. his one has a 3 tone sunburst finish, Tortishell pickguard, a custom Humbucker in Jazzmaster cover pickup, and a DiMarzio Super Distortion P-90 in the neck, a harmonica bridge and Hagstrom style tremolo.
My newest addition
Jazzmasters are such great guitars, you can make it sound like a Stratocaster and a Les Paul with ease.
Best guitar ever.
My vintage 1964 Jazzmaster is god's gift to the world. There will never be a better guitar. I've upgraded a few things to make it playable for 2019 but the neck is something special and a guitar I will always keep. I don't even mind the refin!
like it
american original 60s in sunburst stock with a black pickguard nice guitar like the tremolo
All Pine Edition
I have the All Pine edition...super light....super awesome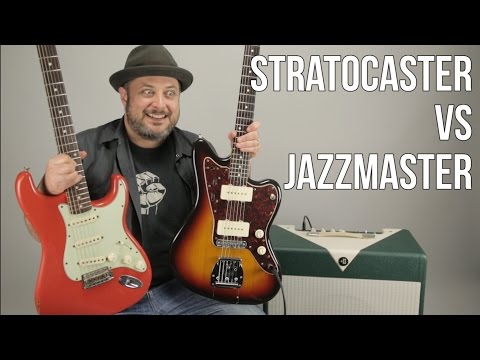 Stratocaster VS Jazzmaster Which Guitar Do You Like More ? Marty Schwartz Shows his Guitars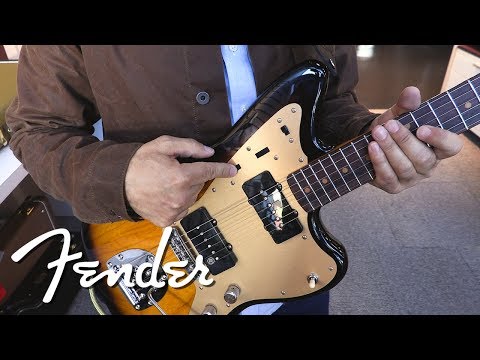 Demystifying the Jazzmaster | Fender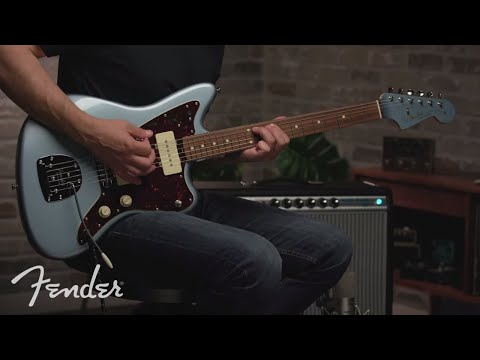 Vintera Series '60s Jazzmaster | Vintera Series | Fender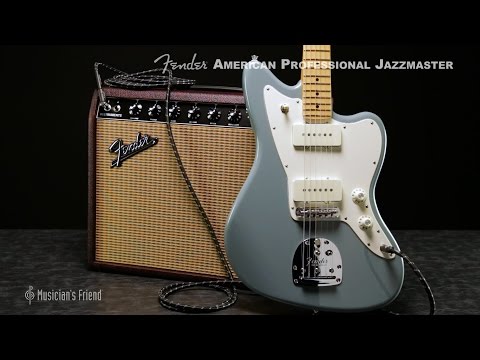 Fender American Professional Jazzmaster Electric Guitar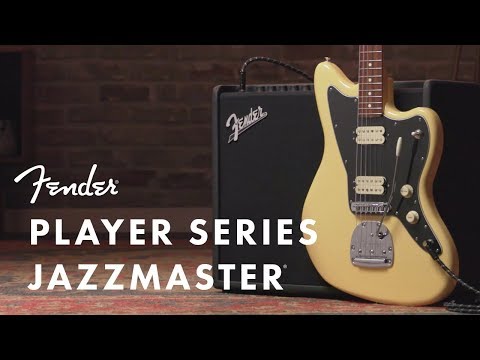 Player Series Jazzmaster | Player Series | Fender