ISP Technologies Decimator II Noise Reduction Pedal
ISP Technologies introduces the Decimator II, second generation of the Decimator Noise reduction. The Decimator II includes improved performance and innovations so unique that it is covered under two new patents pending for these new improvements.... read more
CHECK PRICE ON
AS FEATURED IN
Reviews
Trusted musician and artist reviews for ISP Technologies Decimator II Noise Reduction Pedal
4.5
Based on 12 Reviews
astounding pedal!
Does exactly what you need it to. Simply move the nob until the unwanted noise is gone. really does cut out all of that nasty stuff. No tone sucking either!
Simple and efficient.
Easiest noise gate to dial, but also the best I ever used. It's a must have on your pedalboard. I use it for guitar and bass.
Excellent Noise Gate!
I bought this to try and eliminate some RFI interference I'm getting. I still get a little bit on initial strike of the strings, but this is an excellent noise gate. I guess I need to run humbuckers to get rid of the RFI.
Quiet and clean
This is a god send, best noise reducer/gate i have used. Cleans up the volume push from my overdrive pedal before it hits my tube amp, quiet until i pick and quickly clamps down. Cannot stress how much it was worth the money.
The Noise Killer
In the FX loop, no "pcccchhhhh", "bzzzzzzzzzzzzzzz", or "PFFFFFFFFF" anymore, once you find the right setting.
Use this close to beginning of Signal Chain
It goes guitar, tuner, then Decimator 2 before any other pedal. Greatly cleans up my signal allowing all other pedals to cleanly do their thing. Brilliantly cleans up my tone. Use sparingly. Can make you sound digital. I rarely go past 50%. Second in signal chain.
almost 3 years ago
edited over 2 years ago
Killer at Killing Noise
As I'm starting to have mixed feelings about my Smart Gate, I decided to ask my cousin to borrow his Decimator to test it out. So far I am really enjoying it. I run a really noisy rig (high-gain amp, EMGs, cranked up gain and guitar volumes are dimed) so a noise gate is a must for me. Juxtaposed with the SG, the Decimator is much simpler. The former has the threshold knob and the switch of levels, whereas the latter is simply one knob, which you can turn to find the sweet spot for you. For me, it cuts out a lot of extra noise when I'm not playing at it is exceptional at finding just where it needs to cut out the extra noise. Very little tone suckage, if at all, and only a smidgen of sustain loss. I would definitely recommend it for simple looking for a simple gate.
ISP
Wow, this thing is unreal! I was using the Boss Noise Suppressor for ages... why on earth i'm not sure that thing sucks your tone like you wouldn't believe! Don't think twice, get the ISP!
Perfect as any ISP products
Well if you have tons of pedals in your signal or your are burping lots of distortions anda gain in your sound. This will clear it up for you, awesome tool being quiet and never MIXING you sound. Clear and natural. Awesome
The Chrome Plated Sound of Silence!
To qualify this review, the Decimator II his is my first foray into using a noise gate. From the outset, I was actually aiming to buy the MXR SmartGate. When it came down to it, I was talked into getting the Decimator II. "It's a little more, but worth it." said the salesman. Regardless, I am very impressed. This addition has killed this hiss and I love it. This difference is positively stark. It's like magic. Doubly so given that with a single knob, you can hear when the hiss is gone. It really has provided a simple, no fuss solution.
I am running with a light touch on a Fulltone PlimSoul for distortion, but really haven't pushed this much. I lean into clean for sound so we'll see how things progress as I get deeper into distortion. For now, I'm very pleased.
With regard to price, the difference when compared to the competition was negligible in my book. A little more yes, but nominal. Even still, you have to wonder how much the chrome finish has to do with the dollars vs the technology & circuit. The box looks bad ass & shiny, but still... is it the chrome that makes it so good?
All-in-all, I am so happy with this addition that I can't see a future playing without it. Regardless, I will keep the MXR on my wishlist to try on the off chance that upping the distortion level introduces any tone suck or clipped sustain at the extremes with the noise gate. Until then, with the Decimator II, I'm ready to rock! ~m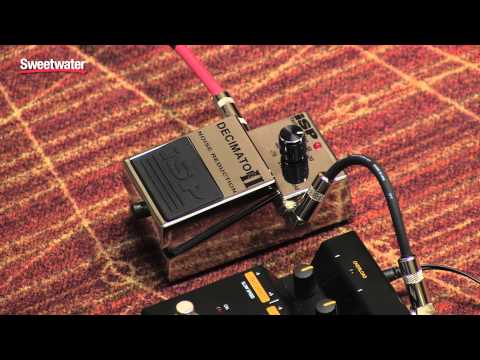 ISP Technologies Decimator II Noise Reduction Pedal Review - Sweetwater Sound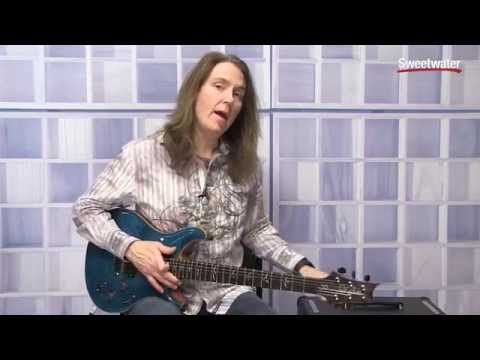 ISP Technologies Decimator II G String Noise Suppressor Pedal Review - Sweetwater Sound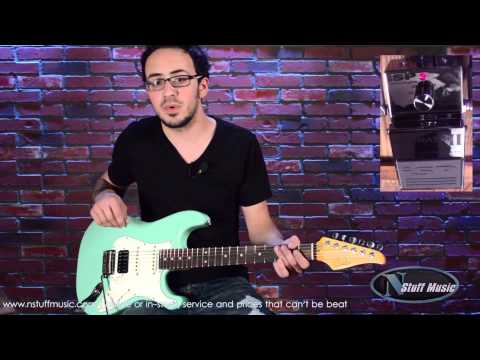 ISP Decimator II Noise Reduction Pedal | N Stuff Music Product Review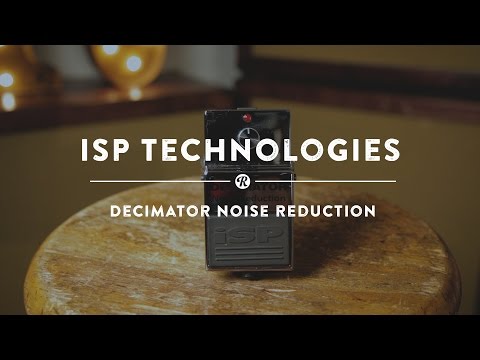 ISP Technologies Decimator Noise Reduction Pedal | Reverb Demo Video
Description
ISP Technologies introduces the Decimator II, second generation of the Decimator Noise reduction. The Decimator II includes improved performance and innovations so unique that it is covered under two new patents pending for these new improvements.
The Decimator II also features improvements in the expander tracking with the new Linearized Time Vector Processing. This novel improvement provides a more linear release time-constant response for the exponential release curve of the downward expander. While the expander is exponentially increasing expansion and dynamically changing its response to fit the envelope of the input signal, the release response remains linear over a given time period. This increases the smoothness of the release response of the expander and provides the most transparent release response of any noise reduction system available and virtually eliminates any release ripple for incredibly smooth decay of longer sustained notes.
Perfect for noisy guitars or effects chains.
Specifications
Gradual release
Smooth and musical
Gain enhance