Shure Beta 87A Condenser Vocal Microphone
The Shure BETA®87A is a premium quality supercardioid hand-held electret condenser vocal microphone with exceptionally smooth frequency response and high sound pressure level capability. Used for professional sound reinforcement, broadcasting, and... read more
CHECK PRICE ON
Recommend Related Items & Pairings
This is where you can recommend to readers an alternative - or gear that goes with - Shure Beta 87A Condenser Vocal Microphone. What gear sounds similar, is less expensive, higher-end or boutique, etc.?
ADD YOUR RECOMMENDATION
Reviews
Trusted musician and artist reviews for Shure Beta 87A Condenser Vocal Microphone
5.0
Based on 2 Reviews
Not just on stage
Mosty im using it for record vocals but works well with acoustic guitar For me its like an sm58 combinet with an expensive condenser mic. In the world of listening music in phone you don't need better than this!
SHURE BETA 87A
Best VocalMic for my voice I've found. Very Full Sound. Compliments my baritone vocals.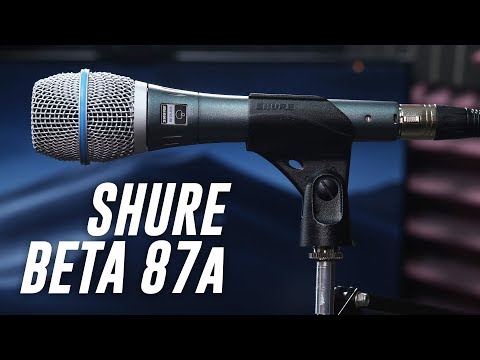 Shure Beta 87a Condenser Mic Review / Test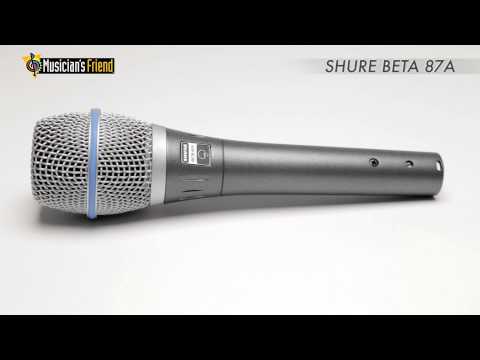 Shure Beta 87A Supercardioid Condenser Mic
Description
The Shure BETA®87A is a premium quality supercardioid hand-held electret condenser vocal microphone with exceptionally smooth frequency response and high sound pressure level capability. Used for professional sound reinforcement, broadcasting, and studio recording applications, the Beta 87A combines superb performance with the ruggedness needed for touring and field production.
The Beta 87A features a controlled low-frequency roll-off that compensates for proximity effect and prevents the "boomy" sound often associated with close pick-up. The characteristic Shure presence rise brightens the upper midrange. The tight supercardioid pattern, with null points at approximately 125 degrees, provides maximum isolation from other vocalists or instruments while offering minimal off-axis coloration. The Beta 87A operates on phantom power.
Features * Smooth frequency response with gradual presence rise * Highly consistent supercardioid polar pattern provides superior gain-before-feedback * Electronic low-frequency roll-off compensates for proximity effect * Wide dynamic range (117 dB) and low distortion characteristics * Very low susceptibility to RFI and electromagnetic hum * Advanced cartridge shock-mount system absorbs mechanical shocks and reduces handling noise * Built-in pop filter reduces undesirable wind and breath sounds * Legendary Shure quality and reliability
Popular Condenser Microphones