Vox Heritage Collection AC30H2 30W 2x12 Handwired All Tube Guitar Combo Amp
The VOX Heritage Collection AC30H2 30W combo amplifier features 2 channels of classic VOX tone. Channel 1 is an EF86 tube-based channel and channel 2 is VOX's famed 12A... read more
CHECK PRICE ON
I've tried the ac15 heritage, what do you think of the 30 versus the matchless DC30 with which she shares so many preamp similarities? Have you ever had any issues with yours? I keep thinking about adding one of these to my ac30 arsenal, but the weird PCB-meets-turret construction keeps me wary. Same with the Brian May limited edition ac30. I have come close to buying a BM model on 3 occasions now, but the construction freaks me out and I stick to truly hand wired stuff....
by the way, I stick to the EF86 channel on my DC, did you have a similar experience with the heritage ac30? I am also a real fan of the normal channel on my actual voxes though.... I love a good top-boost clean sound, but for truly dirty lead playing the normal channel has the mids and plenty of great texture with a treble boost in-line a la brian may. With the EF86 you don't even need that. The original EF86 brilliance channel has THE sound and even delivers a full bodied clean for country leads. Pop an old mullard ef86 in there with a hifi-grade dampener on it and you are golden. Anyway, its nice to see another vox fan on EB who really knows their vox. It seems like people mostly just know the AC30 by reputation and don't really get down with its history and they sould because every little change really effects the sound of these amps in interesting ways, unlike fender circuits that are way less sensitive to component value changes. I am totally rambling at you dude.
thanks for the eloquent ramble mate! Enjoyed it! Agree that the H2 is not totally pure in more ways than you reference but really packs a nice punch anyway. We know the only thing better costs 2 to 3 times as much and needs a reliable backup especially with the lower value bias resistor.
i've only heard the matchless on tv and youtube so I'm no expert there but having heard the H2 live I tend to prefer it. there's something a little cardboard in the matchless comparatively
huh, my experience with my kit C30 clone is that its anything but cardboard. It definitely has more highs and lows on tap, is considerably louder than my '62 (they are about even when I put the C30 in 1/2 power), and has a refined hifi sheen that maybe didn't translate well to the recordings you've heard. In the room it has an amazing 3D quality with gorgeous swirling chime and this midrange "bloom" that you can't appreciate until you get 4 or 5 feet from the cabinet. It does NOT like to be close miced unless you use 2 microphones in near coincident. But it doesn't have the softer attack of a JMI and with the wrong speakers the chime can get overbearing, more of the percussive 'meanness' of an early Marshall but with better sustain when playing bone clean. On the other hand the dual rectifier slots allow you to change the voltage swing a lot just by dickering with the rectifier tubes. Dual 5Y3 rectifiers in full power tames the output a little, browns the sound a smidgen in a voxy way, and gives the amp gobs of compression and less punchiness without sacrificing its cool midrange bark under overdrive.
all that said, all my different flavors of ac30 are really best played daisy chained together where they can augment eachother, but I so seldom have the chance to play that loud and if I did I would still own my plexi too....
those Matchless get bad-mouthed by some of the players I know so I haven't really explored them but while I can hear the balls of my H2 when Rich Robinson plays one on youtube I've never been blown away by any of the players I've heard on TV using the Matchless. Maybe you have a great Matchless link?
nah, I just like mine.... I am also going to say the stock matchless speakers do NOT do it for me. I like it through older greenbacks in a closed back cab or an open backed 2x12 with a blue and an H30 bass cone type of ceramic speaker. The greenback V30 or greenback H30 combo with doping removed from the cones? Not great for this amp.... I also do not like the parallel 4 ohm wiring matchless uses. I am a vox guy. I want series 16 ohm wiring. I'm trying to think if I have any links to recordings of my carefully tweaked C30... I have a late 50s mallard EF86 mesh shield in mine with a mix of GE and mallard 12ax7 and ecc82 tubes in the rest of the pre spots and PI too.... I really dicker with all my amps to get optimal gain and frequency response out of the preamps
and to get optimal speakers hooked to them.... straight up ac30s are easy in that regard, a pair of blues, no additional thought required! Although I am really int to the blue/H30 combo anymore to get some better bass definition and more of a 3d note bloom courtesy of the different compression and breakup characteristics of the ceramic and alnico side by side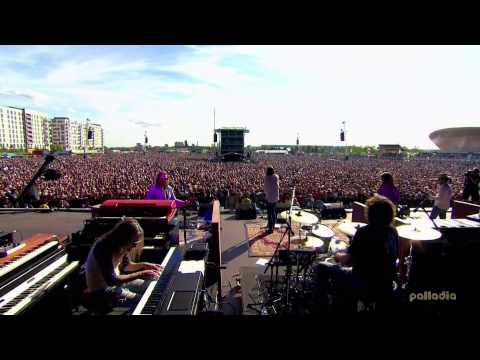 The Black Crowes - "Jealous Again" Live @ Hard Rock Calling 2013 (HD 1080p)
Description
Vox Heritage Collection AC30H2 30W 2x12 Handwired All Tube Guitar Combo Amp
The VOX Heritage Collection AC30H2 30W combo amplifier features 2 channels of classic VOX tone. Channel 1 is an EF86 tube-based channel and channel 2 is VOX's famed 12AX7 based top-boost channel. The AC30H2 hand-wired amp is loaded with 2x12" VOX/Celestion Alnico "Blue" Speakers. Other premium appointments on this Vox amp include genuine leather handles and vintage cream covering.