The AC10C1 is an all-tube 10-watt amplifier that joins VOX's flagship lineup of tube amps, the Custom Series. More portable than the AC15 and more powerful than the AC4, the AC10C1 provides an array of classic VOX tones and comes equipped with stu... read more
Recommend Related Items & Pairings
This is where you can recommend to readers an alternative - or gear that goes with - Vox AC10C1 10W 1x10 Tube Guitar Combo Amp. What gear sounds similar, is less expensive, higher-end or boutique, etc.?
ADD YOUR RECOMMENDATION
* Product prices and availability are updated by Equipboard every 24hrs and are subject to change. Equipboard may receive compensation for purchases made at participating retailers linked on this site. This compensation does not affect what products or prices are displayed, or the order of prices listed. Learn more here.
Reviews
Trusted musician and artist reviews for Vox AC10C1 10W 1x10 Tube Guitar Combo Amp
4.5
Based on 5 Reviews
Great chime and true Vox sound
Had mine for about two months. Can't say enough about this amp. Way more punch than you would expect from 10watt 1x10. The tone is exactly what I love. I normally use a tele with Seymour Duncan Alnico II's but have tried other guitars all with great results. Using an old 80's DOD chorus, Joyo tremolo, and way huge aqua puss along with the the built in reverb works great. Plan to get another to go stereo.
It probably does more like 15 to 20 watts, the old JMI ac10 was just an ac15 with less efficient speakers, slightly lower voltages and less robust transformers.
AC10C1 with Greenback
Bought mine from Sweetwater with an upgrade to a Celestion Greenback speaker. Awesome clean tones with my tele. The built in reverb is very usable. Probably upgrade the tubes in near future. Very loud for just 10 watts. Very nice top boost breakup for some great Vox crunch. Plays nicely with my pedal board. I highly recommend this amp, under five bills with the greenback.
Good variety of tones
Lovely clean tone, although the 2 band EQ is a bit restricting. The Reverb sounds natural, and the gain control allows for some light distortion. Great for starting out with some gigging
Love it! Perfect for small gigs and home slashing...
I love the portability and obviously the sound. I actually gig with it as well.
great amp
great for practicing at home. I like this amp cause it's simple to use (so it can be good for beginners too). has one channel but can be overdriven thanks to the gain control.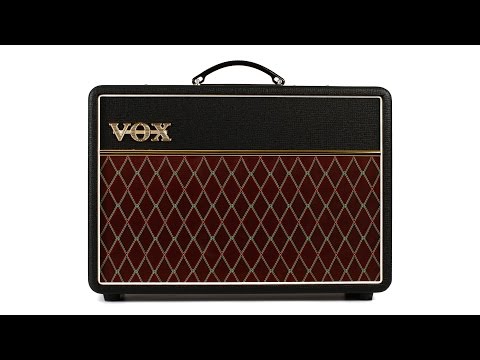 Vox AC10C1 Tube Combo Amplifier Review by Sweetwater Sound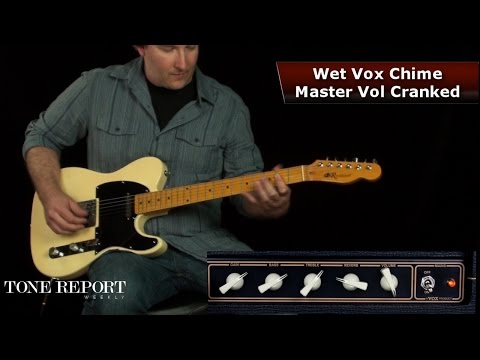 Vox AC10C1 1x10 Combo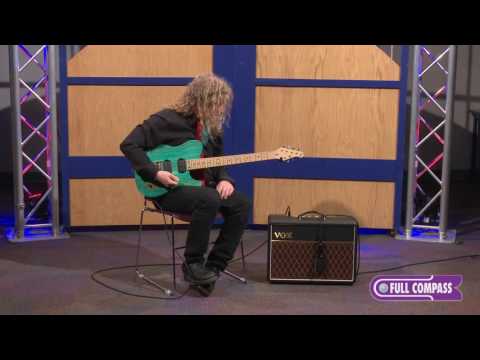 VOX AC10C1 Tube Guitar Combo Amplifier Overview | Full Compass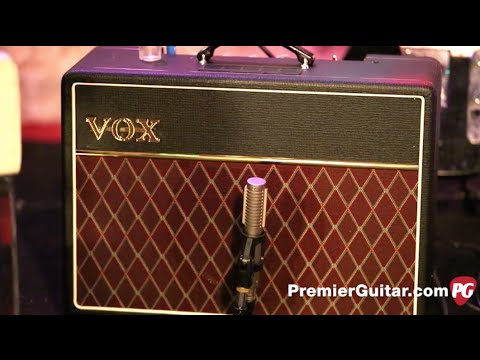 Review Demo - Vox AC10C1 Custom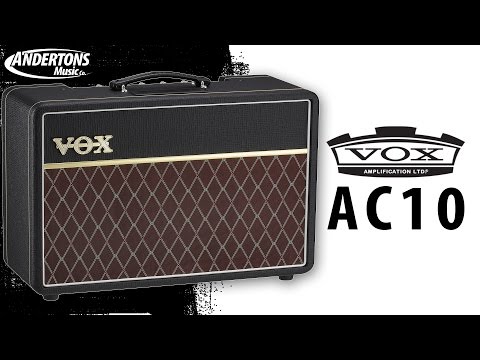 Vox AC10 Guitar Amp Review
Description
The AC10C1 is an all-tube 10-watt amplifier that joins VOX's flagship lineup of tube amps, the Custom Series. More portable than the AC15 and more powerful than the AC4, the AC10C1 provides an array of classic VOX tones and comes equipped with studio-quality reverb and a master volume.
The AC10 was one of the first amplifiers to bear the VOX name and was available only for a short period of time in the early 1960s. Long adored for its ability to achieve rich, articulate tube tone at very manageable volumes, the AC10 has become a highly coveted piece of VOX history since it's discontinuation in 1965. Now, in 2015, VOX is proud to reintroduce the AC10C1 and provide players with an easy way to enjoy the legendary VOX top boost sound. Enhancements include reverb and a master volume, the AC10C1 is the perfect companion for the home, studio or stage.
Specifications
EL84 power tubes; 12AX7 preamp tubes
Custom 10" VX10 speaker made by Celestion
Simple but effective Gain, Bass, Treble, Reverb, and Master Volume controls
Specially designed, high-quality reverb for subtle ambience or vast spaciousness
Popular Combo Guitar Amplifiers