Way back in 1961, VOX rolled out the AC4 amplifier. Nearly 50 years later, VOX is pleased to announce the AC4TV, the all-tube practice amp with remarkable self control. This up-to-date Class A version retains the distinctive EL84 power tube of the... read more
CHECK PRICE ON
AS FEATURED IN
Great tone at lower vol...
I use this amp for practice at home or in studio. Great tone at lower vol.
over 4 years ago
edited about 4 years ago
Great overall amp
This amp is my only amp so far. I play at small gigs (40-150 people) every one or two weeks. My sound guy is pretty good and he mics this amp for me, keeping the great tone and adding the volume i need. The volume and distortion i get out of it is just about perfect for the amount of people i play for and the place I'm playing. Great tube amp that IS NOT just for practicing!
5 legit tube watts is loud as hell
Louder than you would be led to believe.
It's small and cheap and it does it's job. MUCH LOUDER than you would be led to belive, it's one sheet that details how great it is for avoiding the neighbors calling the cops on you while you crank it up is a LIE! Bot it's still good, and has a decent little overdriven sound.
Great amp for low power requirements
I love this amp. No bells and whistles, just a volume, tone and power selector. I swapped one valve for a 12at7 for a later breakup, still has an awesome drive when dimed. Can sound boxy, though, but get a 1x12 or 2x12 and you're good to go.
yeah the boxiness is justthe speaker and minimal cab dimesions, get the ehad... even my ac4HW was boxy
Honest, vintage tone
A great little amp. Nice to have three amplification stages (4W , 1W and 1/4W). However, I miss the FX loop and a spring reverb.
Keep playing her turned all the way up, you will miss the extra circuitry less and less.
Class A!
Great amp! For little gigs, studio and your bedroom!
over 2 years ago
edited over 2 years ago
Cute Box, Ugly Sound
Generally speaking Vox has not won my over with this little amp. On the plus side, it is an actual tube amp. Woohoo?! Is loud a plus when the tone is unnerving? Perhaps if you're aiming for obnoxious. If you want crunch, you've got it. There is no "edge of break-up". Clean tone is nearly impossible and if a bare bones, ragged sound is what you want, you got it. To be fair, I have had fun messing around with it. Leveraging a stereo reverb and a juxtaposed position across the room was interesting. The Vox has not reverb does not include reverb. With this in mind, I've been tempted to snag a T&C Hall of Fame mini and tacking it onto the amp.
As an experiment, I recently ordered a speaker from Warehouse. I am hopeful for increased dynamics and at lease some semblance of clean tone, but won't be crushed if luscious tones don't materialize. Worst case, I'll learn something beyond what buying on a whim gets you.
Great for tiny apartments!
Works awesome in my tiny New York apartment! My only real qualms are not having more control over the drive level like other attenuated tube amps (the Blues Jr. specifically) offer. Still, sounds great.
Good little Tube Amp.
This thing rocks. I had a Blues Junior that I definitely liked more than this, but it went out the door a long time ago. I dig the way this breaks up and the simplicity of the controls lets me just dial-in and play without having to screw around too much. I have the limited edition re-issue with the cream/purple tolex and it looks pretty sweet!
Tiny bedroom amp with a huge sound!
This tiny amp completely shattered my expectations! At first, I struggled to like the amp as I was not getting the sounds I wanted. But playing with the amp late at night and figuring out the rudimentary settings of the gain and watt settings grew my bond with the amp. Works great with Semi-hollows and the gain cranked.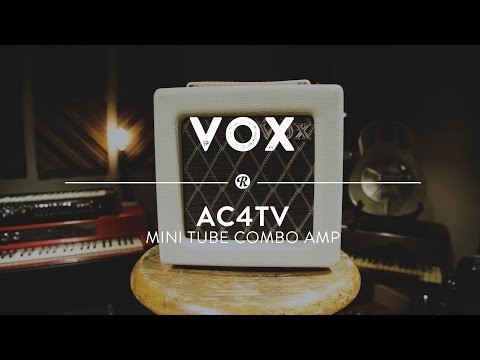 Vox AC4TV Mini Tube Combo Amp | Reverb Demo Video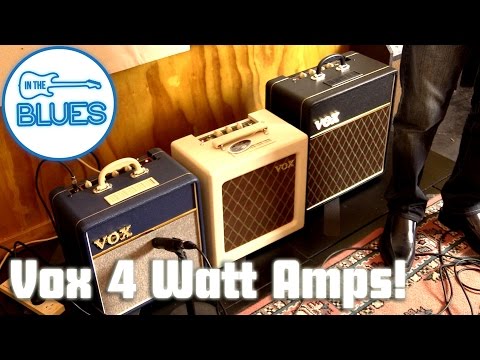 Vox 4 Watt Valve/Tube Amplifier Shootout (AC4C1-12 AC4TV AC4C1)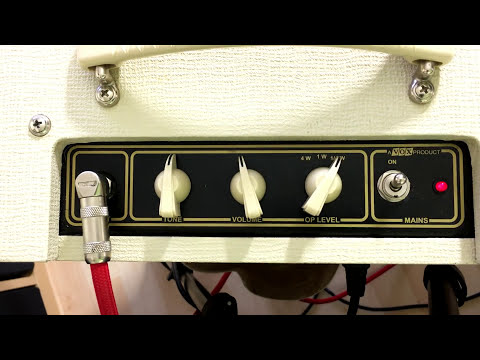 Vox AC4TV | review demo, retube tutorial + A/B comparison stock vs new tubes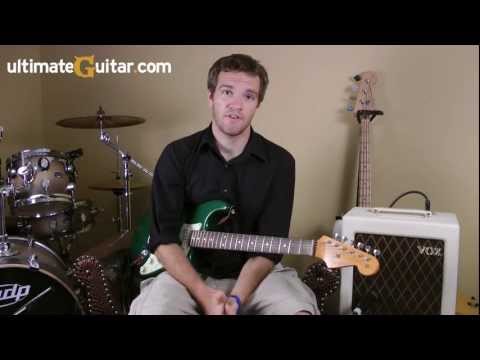 Vox AC4TV Demo
Description
Way back in 1961, VOX rolled out the AC4 amplifier. Nearly 50 years later, VOX is pleased to announce the AC4TV, the all-tube practice amp with remarkable self control. This up-to-date Class A version retains the distinctive EL84 power tube of the original AC4 amp and features a 12AX7 powered pre-amp, all driving a custom-made Celestion 10" speaker. The sophisticated sound is unmistakably VOX, delivering that distinctively British top-end tone.
Simple and sexy, the AC4TV wears its pedigree proudly. The cabinetry features the same TV-front design first used on the classic 1958 AC15, and still in use on today's AC15H1TV Heritage Series. One of the challenges confronting an all-tube amp is retaining a full tone at lower volumes. To solve this issue, the AC4TV features a built-in power attenuator, with 4W, 1W, and 1/4W output levels ensuring you never lose that classic tube tone, even at the lowest listening levels.
The AC4TV also adds a 16-ohm speaker output, allowing you to add an additional cabinet and state your sonic signature with authority.
Controls: Tone, Volume, output level (4W, 1W, 1/4W); In/Out Jacks: Input, External Speaker Jack; Output: 4W RMS 16-Ohm; Speakers: AC4TV - 1 x 10" 16-Ohm Celestion VX10 custom speaker; Valve/Tube Complement: 1 x 12AX7 (pre) / 1 x EL84 (power); AC4TV Dimensions: 13.78" (W) x 8.46" (D) x 14.76" (H); AC4TV Weight: 19.84 lbs.; Power cable included
Specifications
Affordable all-valve design
Switchable output levels: 4W, 1W, and 1/4W output
Quality vintage VOX styling