Based on the classic AC30 design, with numerous up-to-date enhancements and Celestion Greenback speakers.
Power Sharing
The Vox AC30C2 amp makes use of 3 x 12AX7 preamp tubes and use 4 x EL84 tubes to deliver 30W of power. It uses 2 - 12" C... read more
CHECK PRICE ON
Recommend Related Items & Pairings
This is where you can recommend to readers an alternative - or gear that goes with - Vox AC30C2 2x12" 30 Watt Tube Combo. What gear sounds similar, is less expensive, higher-end or boutique, etc.?
ADD YOUR RECOMMENDATION
* Product prices and availability are updated by Equipboard every 24hrs and are subject to change. Equipboard may receive compensation for purchases made at participating retailers linked on this site. This compensation does not affect what products or prices are displayed, or the order of prices listed. Learn more here.
Reviews
Trusted musician and artist reviews for Vox AC30C2 2x12" 30 Watt Tube Combo
5.0
Based on 12 Reviews
A Fine Modern Version of a Classic Amp
The Vox AC-30C2 (the "C" stands for "Custom") was released in early 2010 to replace the previous AC-30CC (or "Custom Classic") line. For those who are unfamiliar with the venerable AC-30 amplifier, this combo has been in production since the early 1960s and has appeared on countless stages worldwide, and on many of the most popular rock and pop recordings of all time. The secret to the Vox AC-30's magic seems to lie in its versatility: it is capable of producing beautiful, chiming clean tones at high volumes, yet it can also dish out some fairly nasty overdrive sounds when it's cranked. And more importantly, it can hit every sweet spot in between these two extremes.
Bear in mind that these amps are no longer manufactured in the UK. Korg acquired Vox in 1992, and in 2005, they moved production to China. Subsequently, some players insist that the quality of products has diminished. And indeed, with the release of the AC-30C2, some changes were made to the company's flagship amp that offended purists, but it's worth noting that many of these alterations are considered by other players to be improvements.
As the former owner of an AC-30TB/6 that was manufactured in the UK (which I unfortunately had to part with several years ago for financial reasons), my personal opinion is that the AC-30C2 represents a step forward in some ways, and a step back in others.
When I first plugged into the amplifier at my local music store, I was immediately struck by the build of the amp. It's every bit as heavy as I remember my old AC-30 being, but the three plastic handles on the modern model feel thicker and sturdier, making transportation at least a little easier and less worrisome. Also, although the cab is apparently made of MDF (particle board, basically), the whole thing seems well-constructed and very solid.
The amplifier retains its older siblings' classy looks... Read More
Great companion
Very versatile amp with really good built-in effects like reverb and tremolo. You can easily set up the amp from clear sound to fat distorted tube classic
Sounds awesome. But also huge and heavy and loud...
Well, what can you say? It's the legendary VOX AC30. The iconic tweed grill is classic. And it sounds spectacular, although I definitely don't understand the whole "top boost" thing. The LAST thing this amp needs is more top-end! It already sounds so clean and high, it's almost brittle. Seriously, any more top boost and this thing will break glass--especially if you turn the volume past 3, cause this thing is also ear-splitting LOUD. It's also very heavy. I removed the middle handle because there was no way I was every going to try and one-hand carry this thing. Frankly if you need clean and loud, I don't think there is a better amp. But you better really need it, cause it is serious overkill for just about everything else.
the rock amp
had a budget tube half stack before, but used mostly for metal which didn't work out to my tastes. After ending up playing rock/indie I went with the amp with most soul and warmth. Love this thing. Breaks up nicely and can maintain a great clean tone. Maybe one day I'll get a fender DR or something to compliment it.
Amazing
Amazing tone, the effects and overall versatily makes this amp the best
From Gear Setup:
Beautiful
This amp has been on my wish list for a long time. When I finally got one in my possession, I could not quit playing it, day after day. The clean tone is beautiful. Has lots of room for pedal work. Run a JHS Angry Charlie through it and you got a great distortion sound. This is so worth price. You get one of these you will not regret. Lots of different options for EQing and just changing the sound right from the amp itself. LOVE it.
The best!
This amplifier has a spectacular sound, very warm, the best according to my appreciation, and I use it both in rehearsals and live performances.
A great way to get the VOX sound
I do not think one has to have a vintage/EF86/Tube Rectifier/Blue VOX to really get the VOX tone. The AC30C2 allows you to get those sounds without the issues that arise with other models. Clear chords, chiming breakup, bell-like leads, and mid-saturated overdrive describe the AC30 and the C2 is able to do that.
The main piece that you might want to change about the C2 is just one of the speakers. It does come with 2 Greenbacks rather than Celestion Blues. So change out one of the Greenbacks with a Blue. Then, you can have both the attitude of the Greenback and the Chime of the Blue.
My favorite amp!
I've modified my Vox AC30 with one Celestion Gold speaker (and the other one is a stock Greenback). The amp has a great mids/treble sound. And the overdrive of this amp is to die for. I don't even need pedals to get the tone I want.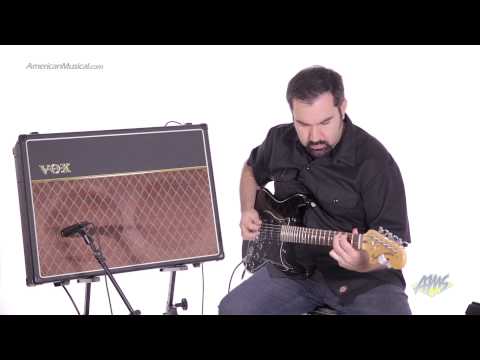 Vox AC30C2 Custom Tube Guitar Combo Amplifier - Vox AC30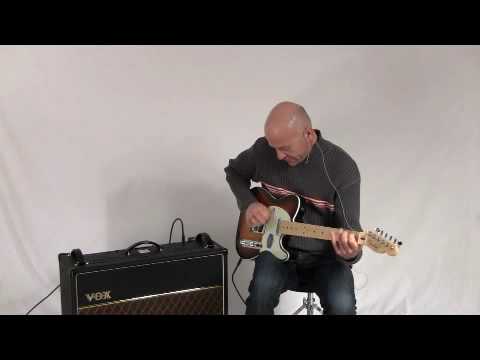 Vox AC30C2 Combo Amplifier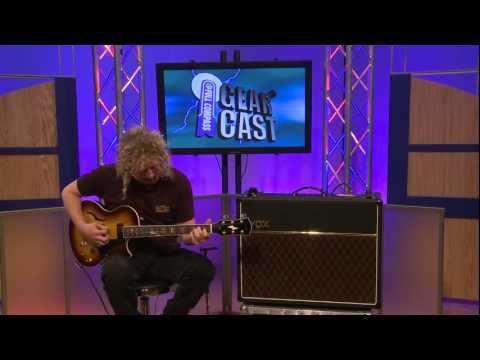 Vox AC30C2 Custom Tube Guitar Combo Amp Demo | Full Compass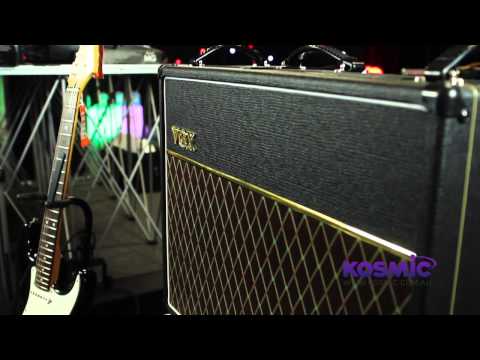 Vox AC30C2 Guitar Amplifier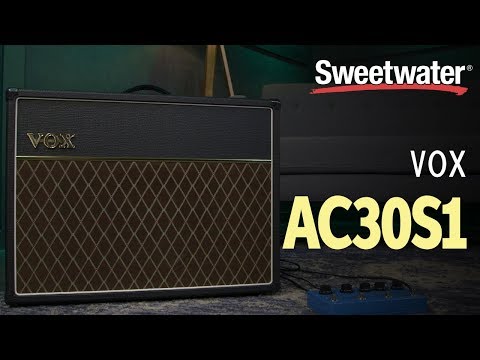 Vox AC30S1 30-watt 1x12" Tube Combo Demo
Description
Based on the classic AC30 design, with numerous up-to-date enhancements and Celestion Greenback speakers.
Power Sharing
The Vox AC30C2 amp makes use of 3 x 12AX7 preamp tubes and use 4 x EL84 tubes to deliver 30W of power. It uses 2 - 12" Celestion G12M Greenback speakers, and includes a switchable 8/16 ohm output jack for powering an external speaker cabinet when you need to speak with a little more authority; using this jack will mute the internal speakers. Additionally, the 30W guitar amp's 2nd extension speaker jack allows you to run an extra 16-ohm cabinet along with the internal speakers for a fuller sound.
An Evolution in Tone
This Vox amp offers two channels: Normal and Top-Boost. Each channel is equipped with its own Volume control, and the Top Boost channel offers highly interactive Treble and Bass tone controls. This powerful channel pairing provides an abundance of tone-crafting control, letting you dial in a classic sound that is all your own.
Both channels on this Vox tube amplifier rely on the Tone Cut and Volume controls in the Master section. The Tone Cut control operates in the power stage rather than the preamp stage, allowing an additional degree of tone shaping. The Master Volume control works in conjunction with the individual volumes of each channel to create just the right degree of gain staging. By balancing the individual and Master volumes, the Vox Custom amplifier can deliver everything from a clean Vox "chimey" sound to a powerful overdriven tone.
Sound in Motion
Sweeten the sound of your Custom Vox amplifier using its classic tremolo effect. Both the speed and the depth are adjustable, allowing you to generate just the sound you want. A warm Spring Reverb is also included on all Vox Custom guitar amps, adding spaciousness to the sound. The AC30C2 also includes an additional tone control in the Reverb section. The Vox Customer AC30C2 tube amp and all Vox Custom amps can use the optional Vox footswitch, allowing you to turn the Reverb and Tremolo effects on and off as you continue to play. The Vox Custom AC30C2 provides an effects loop for incorporating your favorite effects into your sound. True "Bypass" switching takes the entire effect loop out of the circuit.
Specifications
30W
Normal and Top Boost channels
2 - 12" Celestion G12M Greenback speakers
3 - 12AX7 preamp tubes
4 EL84 power tubes
Volume control per channel
Bass/Treble controls for Top Boost channel
Master section with Volume and Tone Cut controls
Tremolo with adjustable speed and depth
Spring reverb with adjustable tone control
True-bypass effects loop
Switchable 8/16 ohm extension cabinet jack (mutes internal speakers when used)
Popular Combo Guitar Amplifiers