Recommend Related Items & Pairings
This is where you can recommend to readers an alternative - or gear that goes with - Ampeg Gemini I G-12. What gear sounds similar, is less expensive, higher-end or boutique, etc.?
ADD YOUR RECOMMENDATION
SOLD BY
AVAILABILITY
REVIEWS
PRICE
* Product prices and availability are updated by Equipboard every 24hrs and are subject to change. Equipboard may receive compensation for purchases made at participating retailers linked on this site. This compensation does not affect what products or prices are displayed, or the order of prices listed. Learn more here.
Beautiful old, odd tube amp
I own this amp. Got it in 2005 from Guitar Center in Jackson Heights, Queens, NYC in the used section. Has a Jensen speaker that seems to be original, according to techs I have sent it to as well. I had to replace a pre-amp tube right away (one channel was howling like a banshee), and replaced another in 2010. Also replaced the reverb tank in 2007 or so - the tech who did it said they exact same reverb tank as the original is still available (or was then) and that is what he put it in it. Other than that this thing has worked beautifully. It was my main amp for almost every band I was in, and from 2005 - 2010 I was in 3-5 bands simultaneously. In 2008 I purchased a VHT 5084 head and 4X12 cab for a heavy industrial band I was in, but I continued to use this amp for everything else, and even this amp had worked well even for that heavy band when pushed by a Proco Rat, Marshall Shredmaster or certain settings on my GT-8.
Perhaps around 30 minutes of playing will warm it up and get it into an amazing sweet spot. Just the most incredible warm, kind of psychedelic, glowing tube distortion you can paint with. It feels like swimming in golden sunshine. Has nice warm cleans as well, but not a pure clean like a 6L6 Fender Twin or a transistor amp, a retro dusty kind of clean (great for jazz, retro rock, country types sounds) that gets dirtier as you raise the volume. Volume must be quite low (and probably mic'ed) to maintain the cleans. The reverb (called echo on this amp) is gorgeous. The tremolo is amazing, and alone or with the reverb can make some really cool sounds and noises. The bright switch on the treble is useful, even with a strat. The bass knobs can get you into fuzz sounds. The amp can get to a point where it needs a rest, if you leave it on and play through it for several hours.
This amp does amazing things to pedals, both analog and digital, though I think it is really the nicest with analog distortions and overdrives. Analog delay is fun with this amp, and digital delay sounds great too. A few years after getting this amp I started collecting analog pedals which gave a beautiful sound with it. When I used my GT-8 processor with it, I found that I preferred to turn off the amp simulations and only use the distortions/overdrives and the effects.
The separate guitar and accordion inputs are funny little feature of this amp. Rumor says accordion inputs may provide more gain - I think this is correct - they do make the sound a little bassier and fuzzier. Generally, I think the guitar inputs are best. I do always use a little cable to pass out of channel 1 (via the unused input) and into channel 2, since only 1 has tremolo and 2 has reverb. You could mix and match a couple of ways to experiment with the sounds produced.
This amp also sounds great with harmonica. I have run digital keyboards through it for Fender Rhodes as well as analog synth type sounds.
You can hear this amp on many recordings I made with bands I was in - studio, live and even jam and practice recordings. As long as you mic it well, you can get great sounds from it.
ampegy
these 1x12 combos are no gemini II when it comes to jazz and clean 60s pop, but they have a certain vibe.... plus you can get them to break up, unlike their 15" loaded siblings.... and that breakup is this harsh, can't you hear me knocking rasp! the power tubes are vailable again from JJ so these are fun amps and still relatively affordable.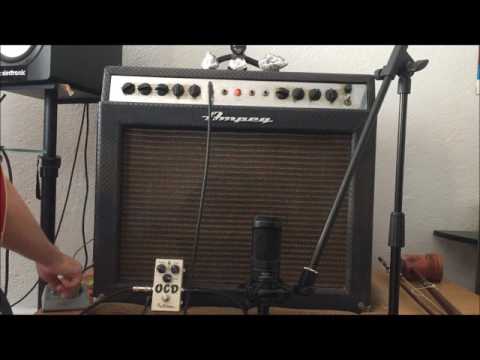 1966 Ampeg Gemini I GS-12 Demo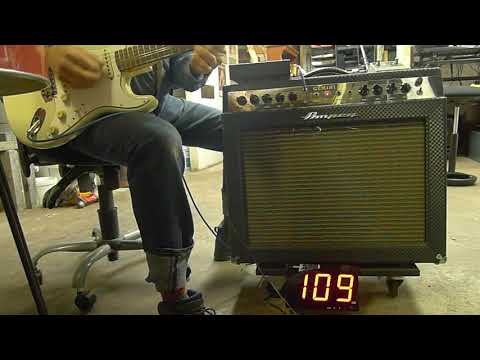 Gemini 1 G-12-1966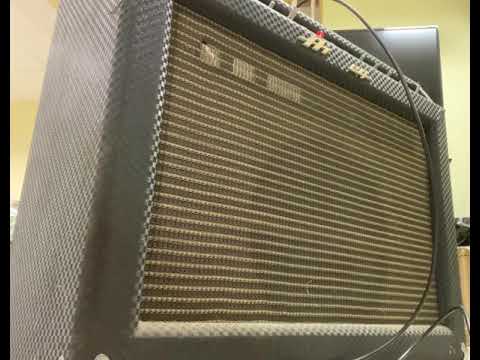 1960s Ampeg Gemini 1 Tube Guitar Amp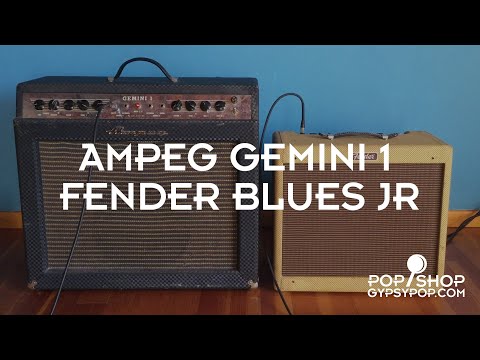 Ampeg Gemini 1 vs Fender Blues Jr. (1967-2012)
Popular Combo Guitar Amplifiers