Nektar Impact LX88 MIDI Controller
Intuitive with detailed presets.
The Impact LX88 is a USB keyboard controller designed for keyboard players looking for extra reach. From the 88 note, semi-weighted velocity sensitive keyboard, to the 8 velocity sensitive pads, to the rubberized ... read more
CHECK PRICE ON
Reviews
Trusted musician and artist reviews for Nektar Impact LX88 MIDI Controller
5.0
Based on 1 Review
It's good. Reliable. nice keys, very affordable
If you want 88 keys for cheap without getting some junk, this is the controller. I don't use the drum pads much. They're OK. I do use the transport control, it's nice. good main controller.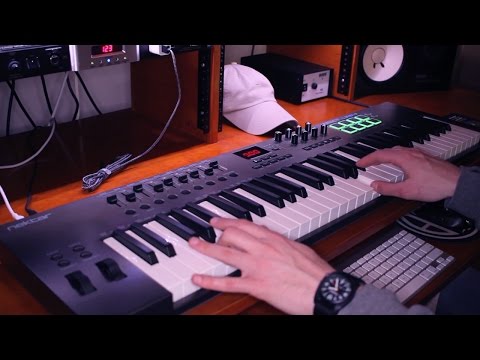 Nektar Impact LX61+ Midi Controller Review and Demo
Description
Intuitive with detailed presets.
The Impact LX88 is a USB keyboard controller designed for keyboard players looking for extra reach. From the 88 note, semi-weighted velocity sensitive keyboard, to the 8 velocity sensitive pads, to the rubberized fader caps and its low-profile and light-weight design, Impact LX88 feels, looks, performs on par with more expensive controllers. DAW integration with most of the popular DAWs makes it easy to get going and a breeze to set up.
The Keyboard
The 88 note semi-weighted, velocity sensitive keyboard delivers a balanced medium tension. The full-size, piano-style keys are covered to protect against dirt and dust while also complementing the Impact LX88 design. With 4 velocity curves gradually increasing in dynamics, there is choice for any playing style. If you don't need velocity, 3 fixed velocity levels supply consistent output. Octave and transpose buttons as well as pitch bend and modulation wheels are within reach, so you quickly can shift the keyboard up or down as needed, or apply additional articulation with the wheels.
The Buttons
The Impact LX88 keyboard can send on up to 3 zones at the same time. Press Layer to add the layer zone and split to add the split zone. When split or layer is active, the corresponding LED button is lit so there is no confusion. Each zone can be programmed to send on its own MIDI channel with settings either pre-programmed or adjustable during performance.
Four functions are selectable on the fly so you can make important changes at any time, even while you play. A key combination makes assignment quick and easy with the LED display telling you which function you have selected. Choices include sending out MIDI Program Messages, change the Global MIDI Channel or select any of Impact LX88's 5 user presets with either the Octave or Transpose buttons. Pressing either split or layer while pressing the Transpose buttons will change the setting currently assigned for the corresponding zone.
The Control
Nine 30mm faders, 9 MIDI buttons and 8 encoders are at the center of Impact LX88's control panel. Each control is fully programmable to send any MIDI CC message for use with hardware or software MIDI products. Used with Nektar DAW integration, the controls take on a life of their own, providing flexible pre-mapped DAW control giving you the best of both worlds. Control settings can be stored in any of the 5 Impact LX88 presets for recall at any time. And if you switch Null on for Presets, any parameter values are stored when you change presets so you avoid parameter jumping.
The Pads
For groove and beat creation Impact LX88'S 8 velocity-sensitive pads make life easy. Each pad can be assigned any MIDI note number or MIDI cc message, for use as MIDI trigger or toggle buttons. But the best part is the "Pad Learn" feature, which allows you to just select a pad, play the note or drum sound you want on the keyboard and assignment is done. No complex menus for a task that's essential for getting the most out of your pads. Assignments are stored over power cycling so you don't lose your settings when you switch your system off for the night. In addition, 4 pad map locations can store your settings for future recall.
The DAW Control
Impact LX88 offers the same powerful Nektar DAW integration support as it's Impact LX siblings and is compatible with most popular DAWs. A common workflow gives access to many of the functions you are most likely to need when recording and performing with your Impact LX88. The best part is that it's all done for you. All you have to do is complete the installation process and start making music. Impact LX DAW integration currently supports Cubase, Digital Performer, Garageband, Logic, Nuendo, Reaper, Reason, Sonar and Studio One. DAWs are different and the Impact LX DAW integration caters for each DAWs uniqueness while maintaining a common workflow. Relying on your computer screen for constant feedback, important and essential windows related to what you are controlling can be open and closed as needed, right from Impact LX88. The following is a brief overview of the common workflow.
The Transport
The six dedicated transport buttons are always within reach and mapped to control Cycle, Rewind, Forward, Stop, Play and Record. Press Shift to get access to alternate functions such as Goto L, Set L, Set R, Undo, Click and Mode*. Additional alternate DAW functions include Track up/down and Patch up/down to change your instrument patches are available via the display buttons.
STUDIO ONE™ ARTIST
Studio One™ Artist is a powerful recording and production platform that lets you work quickly and stay focused on your inspiration. Incredibly easy to learn, it offers unlimited tracks and plug-ins and delivers features not normally found in entry-level DAWs.
Access powerful editing tools without wading through menus. Load and save audio clips, MIDI files, effects, and VIs by drag-and-drop. Need an instrument, effects plug-in, or drum loop? Just drag what you need from the content Browser, drop it into the arrangement, and everything is taken care of.
At mixdown, process your tracks using more than 20 high-quality Native Effects; Studio One's cutting-edge mix engine delivers stunning results.
The Connections
On the back of Impact LX88 you find the connection points including:
USB port for power and data connection to your computer or iPad (via optional USB camera connection kit)
Foot switch jack, assignable (pedal not included)
MIDI Output. Can be routed individually for zones, from your DAW or directly from the LX88
On/off switch
Power Supply socket: 9v 600mA, center positive, 2.1mm barrel connector, (PSU not included)