The Pickup Booster is for when you love the sound of your guitar but you need a little more: more output, more gain or just a little more control over your guitar's voice without changing its fundamental character. Think of it as sending your guit... read more
Recommend Related Items & Pairings
This is where you can recommend to readers an alternative - or gear that goes with - Seymour Duncan Pickup Booster. What gear sounds similar, is less expensive, higher-end or boutique, etc.?
ADD YOUR RECOMMENDATION
* Product prices and availability are updated by Equipboard every 24hrs and are subject to change. Equipboard may receive compensation for purchases made at participating retailers linked on this site. This compensation does not affect what products or prices are displayed, or the order of prices listed. Learn more here.
Reviews
Trusted musician and artist reviews for Seymour Duncan Pickup Booster
4.0
Based on 2 Reviews
Very noise pedal
I don´t know if my unit was defective or not, since I bought it second hand. However, I decided not to keep it because it was very noisy , especially when I put it on the 1 and 2 positions. It was impossible for me to use with my board. Since then, I replaced it with a TC Electronic Spark Booster, which is the best booster available, in my oppinion.
Great boost, but I really hear no difference with the pickup selection..
I love this pedal, gives a great boost and sometimes adds a bit of saturation. I like that in boosts, I use it more to really saturate my AC30. The only thing I have never understood is how the pickup selection works. I don't really care for that, but I give it 4 stars only because of that. Love the big chicken head knob.
the pickup selection works like this: on 0 is simply your pickup boosted up if you are using a single coil on 1 it will simulate a vintage humbucker output and on 2 a modern humbucker output ;D
Honestly, It really only seems to work when it's first in the chain, and even then, it's very subtle.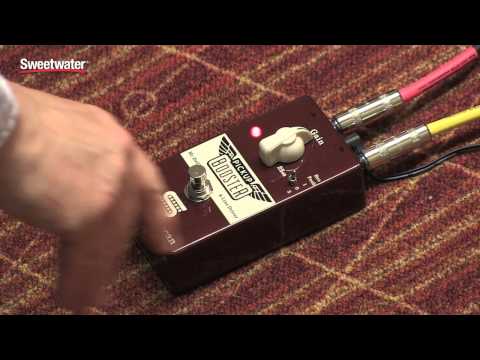 Seymour Duncan Pickup Booster Pedal Review - Sweetwater Sound
Description
The Pickup Booster is for when you love the sound of your guitar but you need a little more: more output, more gain or just a little more control over your guitar's voice without changing its fundamental character. Think of it as sending your guitar to the gym. A true-bypass pedal with a class A, low-noise circuit design, Pickup Booster can be used to dial in the tone you need for every situation. It will emphasize your guitar's natural tone while adding some muscle and fatness. It uses a discrete push-pull output stage for increased drive capability. Even with the Gain knob down to 0dB, your signal chain will sound cleaner – including long cable runs, essentially acting as a buffer on your pedalboard.
Need a humbucker sound out of that vintage Strat? The Resonance Switch makes the pedal interact directly with your pickups, allowing your single coils to emulate either a chunky humbucker sound perfect for classic rock or blues or a high-output tone for rip-roaring solos. If you're using humbuckers, Position 1 will give your guitar a little more 'teeth,' while Position 2 gives you a hint of that 'cocked-wah' tone filter vibe which is great for leads.
Like all of our pedals, Pickup Booster is designed and assembled at our Santa Barbara, California factory by the same team responsible for our legendary pickups.
Popular Boost Effects Pedals