Tech 21 SansAmp GT2 Tube Amp Emulator
The Tech 21 SansAmp GT2 Tube Amp Emulator costs less than the original Sans Amp, and it's easier to set up. So they compromised on sound quality, right? Not as far as we can tell! GT2 purrs and screams with the same kind of fat, warm, glowing-glas... read more
CHECK PRICE ON
Reviews
Trusted musician and artist reviews for Tech 21 SansAmp GT2 Tube Amp Emulator
4.5
Based on 9 Reviews
A great choice of distorcion
I used a lot DS-1, DS-2, Metal Muff, but this has a place in my pedal board. It is very versatile and always find myself with it, regardless of the guitar or pickup that I'm using.
3y
over 3 years ago
edited about 2 years ago
a decent sansamp aimed at guitar only
I found this in a box of junk.... I don't remember buying one so someone must have given it to me years ago. I started using it recently for nasty DI guitar sounds and I really like it. You have to embrace the fact that its not replacing an amp but it has a sound of its own that's pure trash.
This thing gives a crazy good distorted bass tone
the GT lacks bottom though and ocne its shaved out its ahrd to put back. I've definitely used the GT on bass though
I use the GT2 on bass i think it sounds wicked when picking
2y
almost 2 years ago
edited over 1 year ago
Secret weapon
My secret weapon to a distorted bass tone one of the only things I didn't sell with my clear out because it's indispensible
Still one of the best
Amp modelling before it existed. Completely analogue and just great sounding.
It's good, a little noisy.
I use this as a clean boost, and it's perfect as a boost, just a little noisy.
Nice pedal to incorporate into a setup. Provides warm character into guitar sound
Awesome pedal
Sounds pretty good with even shitty instrument. Adds natural tube sounding when playing in line out. I'm using it with both guitar and bass
Nice analog modelling box
I have a DIY version (replica) of this unit, the SinAmp. The sounds are amazing.
Crunch Marshall
Especial Sustain with gain ........................................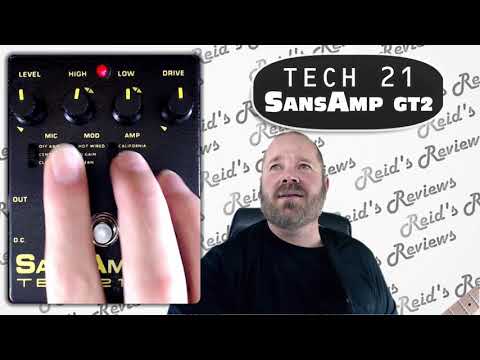 Emulation Bliss! TECH 21 SansAmp GT2 Guitar Pedal Amp Emulator Overdrive Distortion Reid's Reviews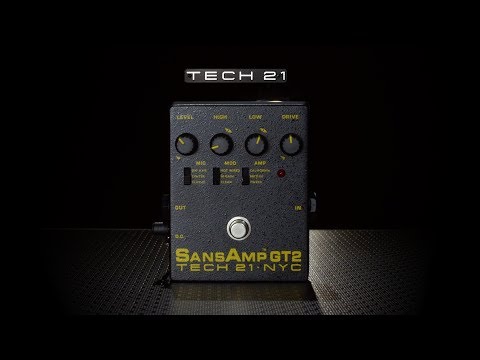 Tech 21 SansAmp GT2 | Gear4music demo
Description
The Tech 21 SansAmp GT2 Tube Amp Emulator costs less than the original Sans Amp, and it's easier to set up. So they compromised on sound quality, right? Not as far as we can tell! GT2 purrs and screams with the same kind of fat, warm, glowing-glass sounds heard in the original, but cost-effective manufacturing brought the price down. You select amp type, modification, and mic placement. Find the tone you want using high and low EQ, set your level, dial up distortion with the drive knob, then hit the "on" switch. The Tech 21 SansAmp GT2 is a truckload of tube amps in just one pedal!