MXR Super Badass Distortion M75
Designed by the award-winning MXR® Custom Badass™ team, the Super Badass Distortion puts decades of 100% analog distortion at your feet. With its highly responsive Distortion control, the Super Badass covers a full spectrum, from early '70s low ga... read more
CHECK PRICE ON
AS FEATURED IN
Recommend Related Items & Pairings
This is where you can recommend to readers an alternative - or gear that goes with - MXR Super Badass Distortion M75. What gear sounds similar, is less expensive, higher-end or boutique, etc.?
ADD YOUR RECOMMENDATION
Reviews
Trusted musician and artist reviews for MXR Super Badass Distortion M75
4.5
Based on 20 Reviews
This pedal lives up to it's name
This pedal is versatile and looks great. I use it for everything from fat rhythms to blazing classic rock leads. It sounds great and it's also pretty nice that you can adjust your low mid and highs. A great pedal overall.
3y
about 3 years ago
edited 6 months ago
Great array of tones, from light overdrive to extreme high gain metal sounds
I used it with my little "toy" practice amp Orange Micro Crush and, when the pedal was on, I could play anything with it. I think that this speaks volumes about the quality of the effect and the amounts of gain that this pedal is able to produce. When playing through better amps, I engage it when using TC Quintessence harmonizer, as harmonizer shoul go into clean amp and after dirt (distortion pedal). Look no further - it is the ultimate distortion pedal.
Great for classic rock
I like this pedal mainly because it sounds good and it says "badass". Well mainly the first reason. It is a great sounding pedal if you are looking to play classic rock such as KISS, I usually play KISS songs with it and it has that tone to me pretty well. A way it doesn't like it Metal. To me it doesn't seem to take a huge amount of distortion if your trying to go for hard and heavy distortion. I have a Metal Zone for that and honestly I like the Metal Zone better. Either way this is a useful pedal if your going for a nice Classic Rock sound.
Best distortion pedal I've ever used
Got this to beef up single coil guitars through my Marshall and was blown away. Gain and volume at about 11 o'clock give a fantastic tight over driven sound and the eq isn't just for show as it really allows you to tweak the sound you want. Highly recommended and great value pedal.
Monster overdrive
Clear, articulate distortion with great eq. Good for almost any style. Cleans exceptionally well. If you're a jazz fusion guitarist, this may be up your street.
its ok
Its sounds good overall. Its just for rock, the high gain settings doesnt sound good to me. Its a nice feature that have 3 eq controls but it has no character with so much configurations.
Favorite Distortion
I absolutely love the range this pedal has. I can use it for a lower gain overdrive, classic rock distortion, nasty medal pedal. Stacked with an overdrive it can even fuzz a little. The tone controls are very responsive and can make magic happen. The clipping style is one of my favorites for distortion. I highly recommend this pedal.
MXR SUPER BADASS DISTORTION
"Just like what I said, I like dirty sounds that has a 3 band EQ on it. I am more of a tweaker. I like to tweak and to shape my sound according on what I want. This is really badass! This is really producing a heavy and massive sound. The unique thing about this pedal, it is very versatile. I am not the type of guy relying on the amp's distortion. As much as possible I want my original sound that's why I prefer using the clean side of my amp because you can easily notice your tone."
Phenomenal
You can get many different tones out of this pedal, it is well worth the money, I feel comfortable using this pedal for any style from blues to heavy metal. Pick one up for yourself!
Perfect
That was actually the distortion pedal I was looking for, Well, I've tried few disto pedals, more expensive and so, But this little affordable one is giving me exactly the sound I want, I'm playing a strat with SC, it gives enough power as I wish I have, That's my fav one,
MXR Super Badass Distortion Pedal Review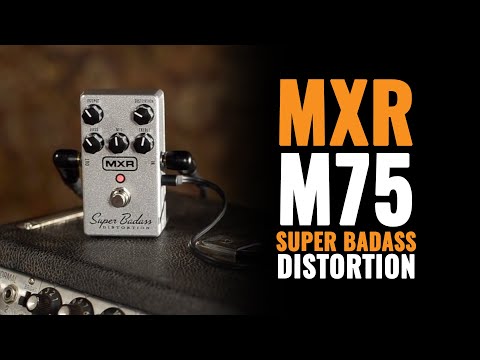 MXR M75 Super Badass Distortion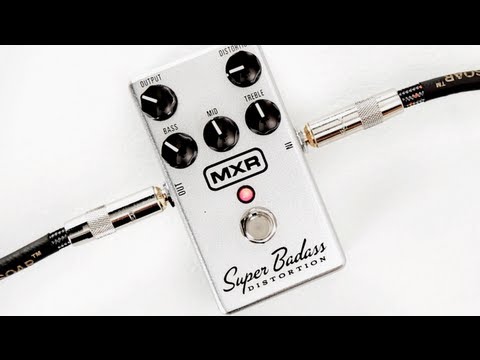 MXR Super Badass Distortion: James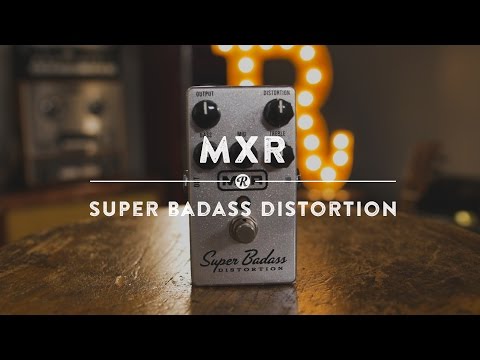 MXR Super Badass Distortion | Reverb Demo Video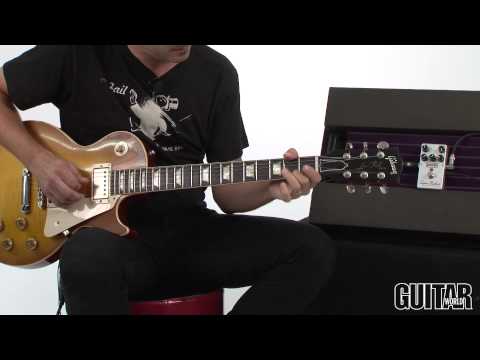 MXR Super Badass Distortion Pedal
Description
Designed by the award-winning MXR® Custom Badass™ team, the Super Badass Distortion puts decades of 100% analog distortion at your feet. With its highly responsive Distortion control, the Super Badass covers a full spectrum, from early '70s low gain overdrive to modern "scooped" metal distortion and every shade of dirt in between. Once you've dialed in your desired amount of crunch, you can use the Bass, Mid, and Treble controls to finely sculpt your sound.
The Super Badass Distortion features true bypass switching and comes ready for the road with the sturdy housing and durable components that MXR is known for.
Specifications
Full spectrum of distortion
From gritty early '70s overdrive to modern "scooped" metal distortion
Active EQ section for accurate, highly controlled tonal shaping
100% analog circuitry
Popular Distortion Effects Pedals