Boss CP-1X Compressor Effects Pedal
Powered by BOSS's MDP technology, the CP-1X is a new type of multiband compressor for guitar that preserves the character of your instrument and technique for unlimited musical expression. Intelligent processing analyzes your signal in multiple di... read more
CHECK PRICE ON
AS FEATURED IN
Recommend Related Items & Pairings
This is where you can recommend to readers an alternative - or gear that goes with - Boss CP-1X Compressor Effects Pedal. What gear sounds similar, is less expensive, higher-end or boutique, etc.?
ADD YOUR RECOMMENDATION
Reviews
Trusted musician and artist reviews for Boss CP-1X Compressor Effects Pedal
5.0
Based on 1 Review
High Quality Compressor
This is a studio quality compressor. Super low noise pedal with four normal knobs (Level, Attack, Ratio, Compression). I really believe in Boss pedals. Must buy one!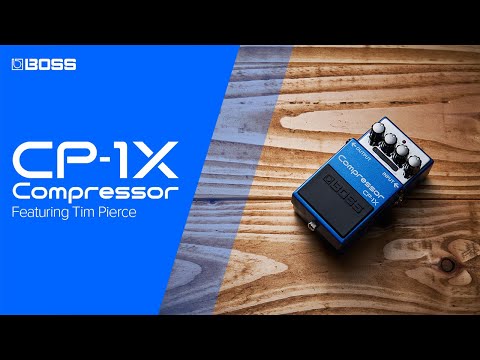 BOSS CP-1X Compressor featuring Tim Pierce
Description
Powered by BOSS's MDP technology, the CP-1X is a new type of multiband compressor for guitar that preserves the character of your instrument and technique for unlimited musical expression. Intelligent processing analyzes your signal in multiple dimensions as you play, providing advanced dynamics control that never colors or muddies your tone like typical stompbox compressors can. The simple, four-knob interface makes it easy to dial in sophisticated results, while the handy gain reduction indicator always shows you how much compression is being applied. Optimized for all types of guitars, the CP-1X offers next-generation performance for every style of music.
Popular Compressor Effects Pedals