Boss TE-2 Tera Echo Delay
Make your playing soar beyond the average delay and reverb with majestic ambience.
Powered by Multi-Dimensional Processing technology (MDP), the TE-2 Tera Echo produces a dynamic new stereo ambience effect that goes far beyond traditional delay... read more
CHECK PRICE ON
Recommend Related Items & Pairings
This is where you can recommend to readers an alternative - or gear that goes with - Boss TE-2 Tera Echo Delay. What gear sounds similar, is less expensive, higher-end or boutique, etc.?
ADD YOUR RECOMMENDATION
Dreamy effects
This is an overlooked echo- reverb pedal Boss produced. It is a one of a kind combination of reverb, echo and modulated sound. Result is pretty dynamic. set feedback to 10, s-time to 2, add some distortion and you'll get the 80's round solo tone. Max s-time, you'll get the cyberpunk atmosphere you've been craving for. Zero s-time and you'll get a good quality echo.
The hold function operates as a freeze pedal to complete ambient solution.
Terrible effect and surprizing
Boss always made very good delays and reverbs ...... but this one is completely different with special algorithms in relation with the velocity and dynamics ..... This one can HOLD a chord a play by layering over this one by keeping clear tones and frequencies
Spacey but not Kevin
Solid body
Nice and spacey sounds that come along with delay
Duration/speed of sound modification echo can be set

Freeze function (hold down the pedal for more than a second)

No tap delay (not sure if this is an actual -)
Be careful with the Feedback knob. Turned all the way to the right there'll be an infinite loop that swells and gets uncomfortable.
Irreplaceable
I couldn't do without this piece of kit on my board. I use it primarily for the sustain function when the switch is held down. When swelled into a nice delay it sounds huge.
what else separates it from a regular boss digital delay?
It's my livelihood
Can't play without it! It's on my 3 pedal on the go rig
something a little different
this is definitely a great option to have playing ambient or clean arpeggios. When I use more distortion I tend to use this as a different sounding reverb
Weird
One of BOSS's more experimental stompboxes. It's hard to know what it 'is' - it seems to be a delay and filter-sweeper which responds to the dynamics of your playing. It can add a subtle wash, or it can just sound a bit over-the-top when it turns everything you do into a sort of 'laser gun' sound! It's good, but I suspect that it's more of a novelty effect for when you want something a bit off the wall; if you just want a basic delay there are plenty of those. I wouldn't recommend this as a 'main' delay pedal effect, it's too unpredictable.
Using This
I play at church frequently, with my role being the "Do whatever you want on guitar" person. I got this pedal after stumbling across a video of it on YouTube. My goodness, it has changed so much about how I've played guitar! A few months ago I learned that when you click this on and do volume swells it sounds AMAZING!
Superb Effect
One of Boss's newer additions (2013) to their extensive stomp box lineup, the Te-2 Tera Echo is a must have.
THIS IS THE BEST!! nobody use it, so i will. and it is a very beautiful pedal too.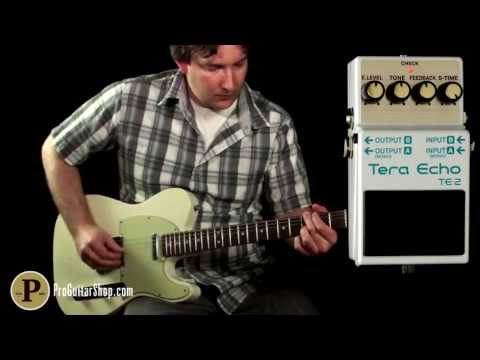 Boss TE-2 Tera Echo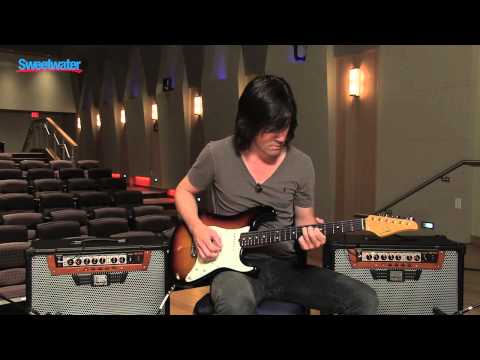 BOSS TE-2 Tera Echo Pedal Demo by Pete Thorn - Sweetwater Sound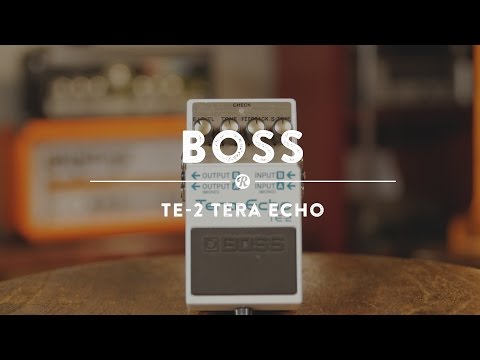 Boss TE-2 Tera Echo | Reverb Demo Video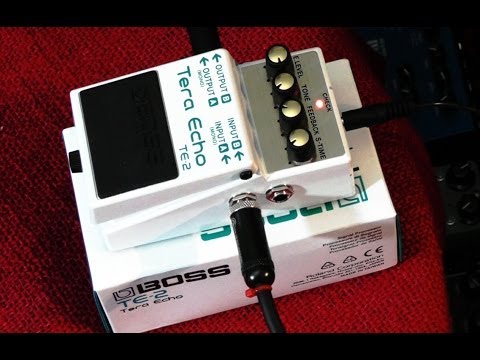 Afro Review - TE-2 (Tera Echo) Effect Pedal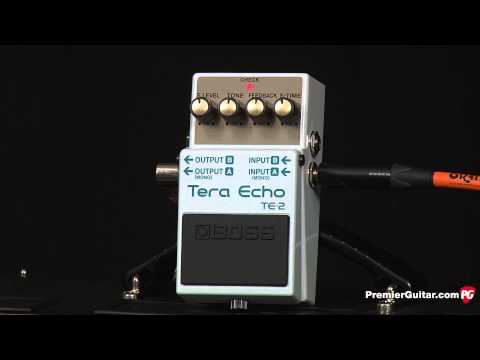 Review Demo - Boss TE-2 Tera Echo
Description
Make your playing soar beyond the average delay and reverb with majestic ambience.
Powered by Multi-Dimensional Processing technology (MDP), the TE-2 Tera Echo produces a dynamic new stereo ambience effect that goes far beyond traditional delay and reverb.
Multi-Dimensional Processing for Superior Tone
Roland's innovative Multi-Dimensional Processing (MDP) analyzes audio signals in many dimensions and applies ideal effects to each. By giving different dynamic changes relative to the input signal in real time, MDP can create bold, all-new sounds with a previously unattainable range of expression.
TE-2: Inspirational Echo
Thanks to MDP, the TE-2 delivers an amazing new ambience effect that satisfies and inspires. Complex internal processing produces an incredibly deep and spacious sound, dramatically enhancing the straight guitar tone without overwhelming it. Through the TE-2's simple, familiar stompbox controls and incredible sensitivity to your playing dynamics, an extremely wide range of sounds can be achieved. And with the expressive Freeze function, you can hold the current effect sound to create rich soundscapes for lead playing and sonic exploration.
The 100th BOSS Compact Series Model!
The TE-2 Tera Echo represents a milestone as the 100th model in the long history of the BOSS compact series. Starting with the release of the OD-1 Overdrive in 1977, BOSS' legendary stompboxes have been integral tools of artistic expression for millions of players around the world. Fueled by a spirit of dedication and innovation that began nearly four decades ago, the TE-2 carries on the BOSS legacy of bringing inspiring, leading-edge technologies to musicians everywhere.
Specifications
Next-generation BOSS compact pedal with innovative Multi-Dimensional Processing, realized with proprietary technology and custom DSP
Rich, spacious echo and ambience effects
Dramatically enhances the direct tone, but never overwhelms it
Freeze function holds the ambient sound for lead backing and sound effects
Ultra-responsive to volume changes and playing dynamics
Wide range of sound adjustment with simple controls
Popular Delay Effects Pedals