Visual Sound V2 Series V2RT66 Route 66 Overdrive and Compression Guitar Pedal
CHECK PRICE ON
Reviews
Trusted musician and artist reviews for Visual Sound V2 Series V2RT66 Route 66 Overdrive and Compression Guitar Pedal
4.5
Based on 7 Reviews
Good
Good compression... In general the pedal is a little bit noisy, but the compressor does the work really well. The overdirve is good...reminds me of the TubeScreamer...
This thing rocks... the compressor side is always on! Gives a nice thickness to my tone. The OD side is my go-to drive, it's a tubescreamer without the low end drop. Love it.
Very useful pedal
The compressor side is always on. It adds a nice sweet sustain to my tone. The overdrive is very good; reminds me of tube screamer with added of low end.
2 Great Pedals for the price of one
This pedal served two purposes for me, not only filling the need for a compression pedal but also having a drive at the beginning of my signal in case I need to push all sounds like a pre-amp to the power amp drives coming later in chain. The compression feedback is a tad loud at times.
By far my favorite pedal
Best sound ever! Sound of kings of leon and I love it.
Route 66
Simplesmente o melhor compressor que já usei, e o 808 dele é lindo, já coparei com o 808 da JHS e o mesmo se saiu lindamente.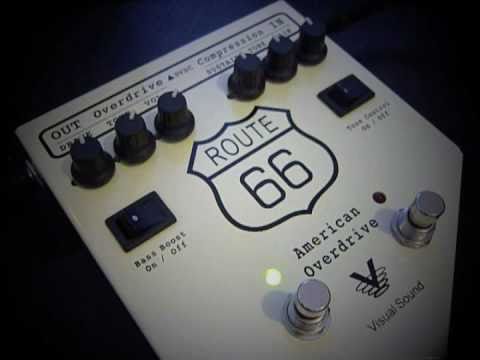 VISUAL SOUND ROUTE 66 AMERICAN OVERDRIVE & COMPRESSOR V1 Effects Pedal
Add Details
Help add a description of Visual Sound V2 Series V2RT66 Route 66 Overdrive and Compression Guitar Pedal
ADD DETAIL