A brand new overdrive from EHX with tons of definition and headroom.
Tone aficionados kept telling EHX's Mike Matthews about a pedal that had achieved a lot of buzz because it was only obtainable at an exorbitant price. That pedal was the Klon ... read more
CHECK PRICE ON
AS FEATURED IN
Reviews
Trusted musician and artist reviews for Electro-Harmonix Soul Food Overdrive
4.5
Based on 56 Reviews
nice pedal with several applications
The soul Food is anice overdrive on it's own, but also also great for adding a little hair to you existing drive sounds. I run mine before a BYOC orange Distortion (DS-1 clone) and a Fulltone OCD. With a little gain and slight voume boost to push the dirt pedal harder
Get the JHS modded version.
Original is very weak and thin sounding. Had JHS mod mine. Things screams. Very transparent. Sounds just like a Klon.
almost 5 years ago
edited almost 2 years ago
I can't help but like this pedal.
Everyone knows that the soul food is Mike Matthew's cheap knock-off of the Bill Finnegan's fabled Kon Centaur. Its in a smaller enclosure, is machine-made on a PCB, the buffer can be disabled internally via dip-switch and doesn't have the unobtanium, err, I mean germanium secret sauce clipping diodes to ground that produce the distortion. Otherwise its the same TLM107 op amps and everything. It could use a little more low end to sound perfect through my ac30s, but this circuit sounds really good for 70s classic rock kinda sounds and doesn't color your base tone too much. Your amp will still sound like your amp with your settings, your les paul will sound like a les paul and your strat will remain a strat. If you need to fatten a fender into a fender for syrupy solos try a TS9.
I have not played an original klon in ages nor have I tried any of the fancier alternatives. This pedal sounds a lot like like I recall the klon I tried sounding back in the 90s. The klon was too expensive for a drive pedal then and its way too expensive now that its discontinued and collectable. For all its innovations like the dual ganged pot, fancy pants buffer and charge pump, the core concept of the klon centaur is just diodes to ground clipping the peaks off your signal like a rat, a ross distortion, mxr distortion+ or a DOD od250. Nothing special. What Klon did was nothing different than all the guys still fine tuning tubescreamers. The EHX price is just right for this little beastie. Someone should combine the centaur's amplification and control arrangement with the clipping diode arrangement from fulltone's OCD (which is just stolen from an old voodoo lab design, so don't feel bad). That would be a really dynamic and interesting take on the original distortion/OD pedal format.
Soul Food
The Soul Food is recognised as the cheapest version of Klon (can I say that word... no one seems to ever be able to do it) clone on the market. Essentially, if you were looking for an honest written description of the soul food, you will be hearing a tubescreamer levelled overdrive, not too bitey, that can clean right up that has a lot more treble to it than a TS... which are a bit muddier than this guy. The gain behind the level control makes it particularly useful as a boosting device...hmmm... a boost that has some treble to it... a treble boo... nah...
A light overdrive with plenty of headroom
This pedal, intended to replicate the sound of a KLON centaur is a great light overdrive with plenty of headroom. Sounds very crisp.
Probably the best overdrive pedal for the price
This pedal does a great job of creating solid overdriven tones when I'm unable to crank a tube amp up loud enough to cause it to distort and stacks great with other pedals. It takes a little to get used to it, but overall it sounds solid.
So Good
Classic, bright, transparent, shimmery overdrive that sits nicely in the mix. I use this as my primary overdrive and would recommend it to anybody.
Decent Klon Klone, but is a better clean boost
The pedal does a decent job of sounding like a Klon Centaur, and for the price of $62, you seriously cant beat it for what it does. I use it as a clean boost instead of overdrive, like John Mayer does, to either stand on it's own or to push my other pedals. It really shines when it's pushing a tubescreamer, or other similar pedals.
A great addition!
The sound coming from this baby is matched only by the angels. This came highly recommended and I can tell you that I ain't mad!
Budget Klon
Its a transparent OD. Excellent clean boost. Satisfying amounts of dirt. Get it to find out what the Klon hype is all about and then don't bother with the horsie because EHX did the job for less than a tubescreamer.
mine was very,very close to the original klons I've played.... without having them side by side I couldn't say much else.... not exactly my bag, but nice ass unit for the money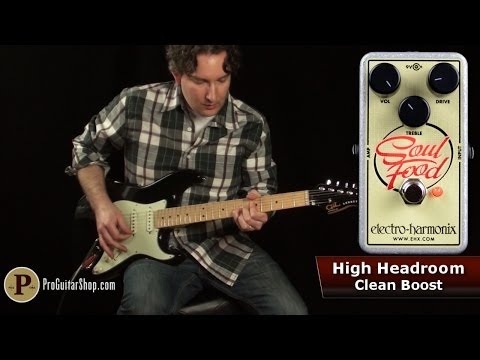 Electro-Harmonix Soul Food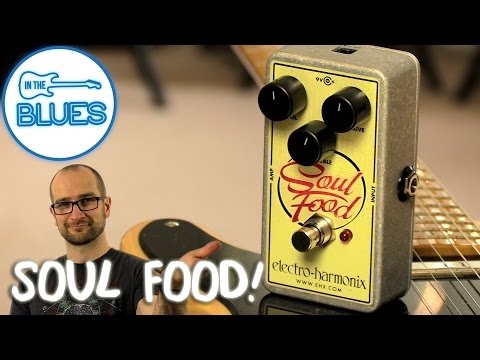 Electro-Harmonix Soul Food Pedal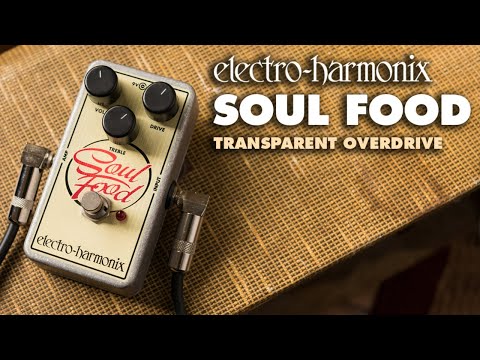 Electro-Harmonix SOUL FOOD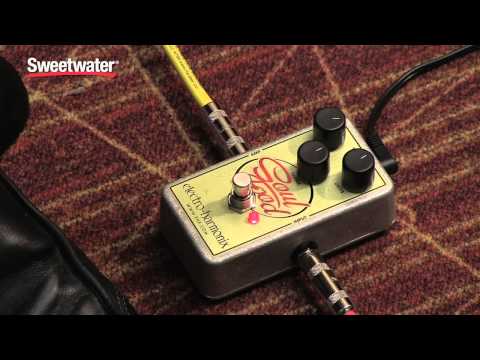 Electro-Harmonix Soul Food Distortion/Fuzz/Overdrive Pedal Review - Sweetwater Sound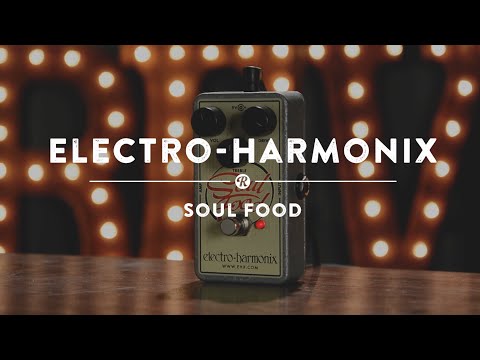 Electro-Harmonix Soul Food | Reverb Demo Video
Description
A brand new overdrive from EHX with tons of definition and headroom.
Tone aficionados kept telling EHX's Mike Matthews about a pedal that had achieved a lot of buzz because it was only obtainable at an exorbitant price. That pedal was the Klon Centaur.
A believer in bringing great tools to starving musicians, Mike tasked his trusty team to create an affordable alternative, and that is how the Soul Food was cooked up.
The Soul Food delivers transparent overdrive with great touch and response. Its circuitry features boosted power rails to provide abundant headroom and increased definition. Best of all, you don't have to be a rock star to own one!
Specifications
Transparent overdrive
Boosted power rails for extended headroom and definition
Super responsive
Compact, rugged design
Selectable true bypass or buffered bypass modes