Recommend Related Items & Pairings
This is where you can recommend to readers an alternative - or gear that goes with - Beyerdynamic DT 770 PRO-80 Closed Studio Headphones. What gear sounds similar, is less expensive, higher-end or boutique, etc.?
ADD YOUR RECOMMENDATION
* Product prices and availability are updated by Equipboard every 24hrs and are subject to change. Equipboard may receive compensation for purchases made at participating retailers linked on this site. This compensation does not affect what products or prices are displayed, or the order of prices listed. Learn more here.
Reviews
Trusted musician and artist reviews for Beyerdynamic DT 770 PRO-80 Closed Studio Headphones
5.0
Based on 46 Reviews
Amazing sound and comfort
The Beyerdynamic DT 770 PRO-80 Closed Studio Headphones are absolutely amazing. Granted they're the most high-end headphones I've ever tried, but I honestly cannot imagine how another pair can sound that much better than these. I've owned headphones in the $100-120 range from Sony, Audio-Technica, and Sennheiser, and some more expensive Beats headphones (hey nobody's perfect). I wasn't exactly looking for new headphones, but I got a chance to borrow these from a music producer friend, and was absolutely blown away from the moment I heard some sound come through them.
The mid and high frequencies are so well balanced, and the bass is nice and rounded and full. I can see why these are often near the top of the list for music producers that need a good bass response. I've used these to produce music, play guitar, and for casual listening, and they excel in all areas.
Finally, I can't say enough good things about how comfortable they are. I only feel the need to take a break every handful of hours, which is better than I can say for all the other headphones I have owned or tried. The pads are super soft, and the DT 770s are overall very light, so you'll almost forget you're wearing headphones at all (if it wasn't for the sweet sweet sounding music engulfing your ears and brain).
If you're in the market for new over-ear headphones for studio or casual use and can stretch the budget to around $200, don't make a buying decision until you've given these a shot. It won't take long for you to fall in love with em, trust me on that.
Cannot decide between the DT 770 Pro 80 Ohm and the DT 250 80 Ohm.
How does the DT 770 handles mids and highs?
Thanks!
DT 770 vs. DT 250 ... that's a great question! I sampled the DT 250 before settling on the DT 770. They are pretty different, imho. The DT 250s I can best describe as more flat and even. You don't get the feeling that any frequency range is exaggerated in any way. What got me about the DT 770 was how full they sound. I think this is in part to a slightly greater bass response, but there was something about how it all came together that really made me feel the music more with these.
To answer your question specifically, I think the mids and highs sound beautiful on the DT 770. The mids are very present, I can pick up lots of nuances when I listen to "softer" music. The highs are also well balanced, not shrill at all, and I think that partially contributes to being able to wear these for hours before your ears fatigue.
I don't want to take anything away from the DT 250, since they get pretty rave reviews as well. I think it largely depends on your application, maybe a mixing/mastering engineer would opt for the DT 250 for a flatter, more even response. My applications were casual listening all the way to guitar amp simulation and electronic music production, so the DT 770 truly blew me away.
Good luck, and let me know if I can offer any more help!
Thanks for such an ample answer! My main use for this headphones will be mixing and mastering EDM music, so I'm in search of a set of headphones that can transfer my mixes to monitors. :)
Cool, glad I could help! The DT 770s have a slight bump in the low end, I was using them alongside KRK Rokit 8s which I believe also have a slight bump in the low end. :) The mixes translated very well between the two.
Thanks again! I ended up with Beyerdynamic DT 770 Pro 80 Ohm version. So excited! I'll return here with a review after I will put my hands and ears on it!
After I bought the DT 770 Pro 80 Ohm, I could not resist also buying the Audio Technica ATH-M50 headphones. For my music production and frequency response, I sticked with Audio Technica ATH-M50. I have a small head, so the DT 770 Pro were HUGE for me and also I liked the soundstage of the M50. The DT 770 Pro suits better for guitar, rock, jazz kinda sounds. The ATH-M50 are more for EDM music production which I belong. I wish I could stick with both because are both AWESOME but I cannot. Thanks for all the help! Much appreciated! :)
I used to think my Sennheiser HD280 were good studio headphones, until a friend showed me these. Made me realize there are studio headphones, and then there are STUDIO headphones! These are the latter.
Very very light and comfortable for extended sessions, excellent bass (full but not overly emphasized). They're pretty huge, might be a little goofy out in public, but I use 'em in the studio late at night :)
Have done DJ sets on these for hours and hours w very little fatigue. Super comfortable. Bass sounds BIG and round. They are huge and gray, not exactly the sexiest look (or so my girlfriend has pointed out haha)
Because a friend of mine, who is also a DJ, told me these headphones are the shit for someone interested in just listening to music.
Every studio needs a pair
I can't talk highly enough of these. They're German made. They're from a company with a stellar reputation. They're beyond comfortable. And most importantly, they sound phenomenal. By far, the best reference-level headphones for under $500 if you ask me.
Great headphone for producing music
Love these headphones. The sound quality is absolutely perfect, overall very flat sound image.
Brilliant headphones for the Price.
I bought these in my hometown of Bristol, and they BLEW ME AWAY!!!! The response is basically flat. At first, I thought that there was little bass in the headphones but as I used them for about an hour, they started to show their true colors. I use them with the Focusrite Scarlett 2i2, and even though I have to whack the volume of the headphones up to full volume, they are still the best headphones I have ever used.
@Kidsonic UPDATE! I don't have to put them up to full. That's just the burn-in time.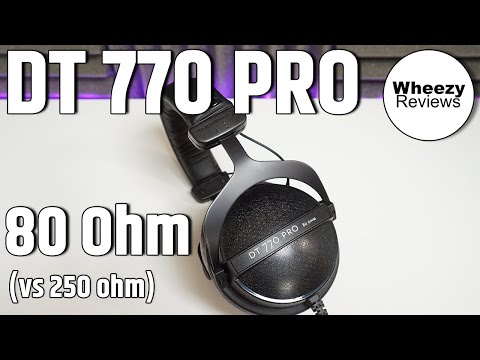 Beyerdynamic DT 770 Pro 80 Ohm Review
Best Studio Headphones For Mixing 2019 | Beyerdynamic DT 770 Pro Headphones Review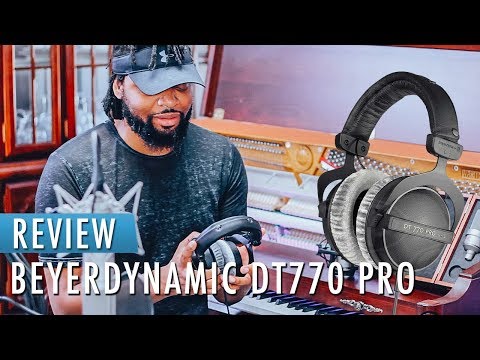 Best Studio Headphones 2018 | Beyerdynamic DT770 PRO 250 OHM REVIEW
Z Review - Beyer Dynamic DT770 250Ω Sound Demo
Add Description
Help add a description of Beyerdynamic DT 770 PRO-80 Closed Studio Headphones
ADD DESCRIPTION
Popular Headphones & In-Ear Monitors