Fuzz Pedal with Footswitchable Mids Section, Noise Gate, and Expression Pedal Input read more
CHECK PRICE ON
---
According to this photo, Wilson uses Electro-Harmonix Deluxe Big Muff Pi. more
Reviews
Trusted musician and artist reviews for Electro-Harmonix Deluxe Big Muff Pi Fuzz Pedal with Mid-Shift
4.5
Based on 3 Reviews
A Versatile Big Muff Alternative
While this may not be the most pedalboard real estate friendly or boutique sounding Muff on the market, the Deluxe Big Muff makes up for it with the massive array of tones hidden inside of it. There is the regular Big Muff control panel but underneath is a bass boost switch, which when activated will beef up single coil pickups. There is a built in noise gate which is a big plus. As a result, I run the Muff last in my string of gain pedals so it quiets any noise coming from any of them when it is on. The attack knob does just that: adds more attack to your picking. Where this pedal really shines above the rest is the foot switchable Mids section. It allows you to dial in a scooped or boosted mid tones so that depending on your circumstances, you either sink into the mix or are right at the forefront. A handy tool for solos. Now it is a monster on your board but I think its a worthwhile investment if that's the kind of tone you're looking for.
Even better than the original Big Muff
With all of the added features (bass boost, mid boost, attack knob, noise gate) the Big Muff Deluxe is even better than the classic Big Muff.
3y
almost 3 years ago
edited almost 3 years ago
great fuzz, mid boost is definitely worth it
Ill say this if you want a damn good fuzz pedal with mid boost then this is for you.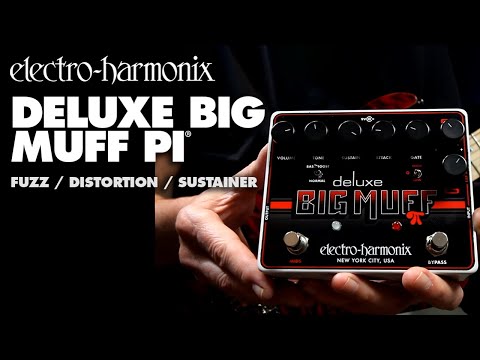 Electro Harmonix Deluxe Big Muff Pi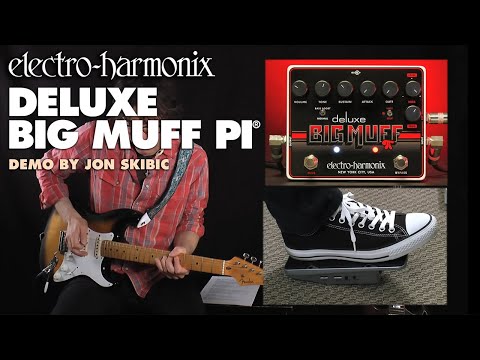 EHX DELUXE BIG MUFF PI DEMO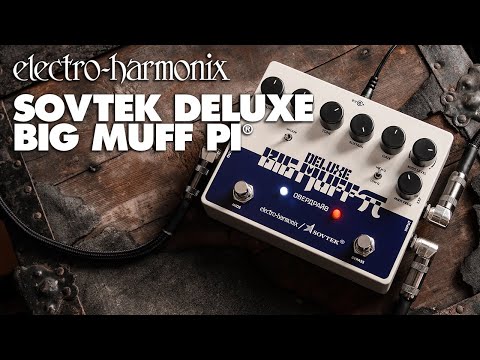 Electro-Harmonix Sovtek Deluxe Big Muff Pi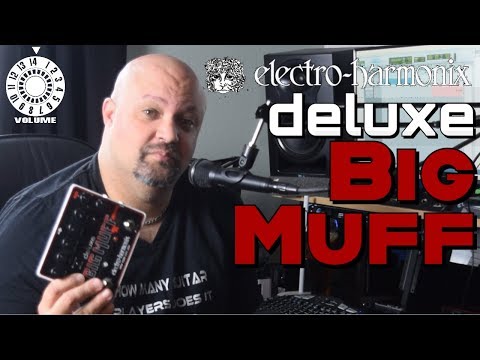 Electro-Harmonix Deluxe Big Muff Pi - Full Demo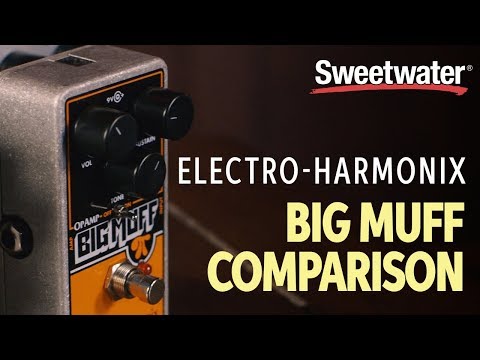 Electro-Harmonix Big Muff Fuzz Pedal Comparison
Description
Fuzz Pedal with Footswitchable Mids Section, Noise Gate, and Expression Pedal Input
Specifications
Big Muff Knob Layout - familiar Sustain, Tone and Volume controls
MIDS EQ - fully parametric MIDS EQ includes variable frequency sweep, boost or cut level control and switchable Q or bandwidth amount
Footswitch for MIDS EQ -turn on the MIDS EQ circuit with the stomp of your foot
Gate - remove unwanted hum
Attack -preserves pick attack with an enhanced version of your dry signal
Bass Boost - switchable bass boost
Expression Pedal Input - sweep the frequency of the MIDS EQ with your foot