L.R. Baggs Venue DI Acoustic Guitar Preamp
We created the Venue DI so you can travel light, set up fast and sound incredible anywhere you plug in. The Venue DI gives you complete control by combining a full-isolation DI output, 5-band EQ with adjustable low & hi-mid bands, variable clean b... read more
CHECK PRICE ON
Reviews
Trusted musician and artist reviews for L.R. Baggs Venue DI Acoustic Guitar Preamp
5.0
Based on 4 Reviews
Transparent sounding Workhorse!
One of the best transparent Acoustic Guitar Preamp in the market. There's a learning curve for this. Reading manuals and online videos didn't help much. But after some use, I managed to get the hang of it. I usually start this on neutral settings and tweak a little according (eg. some mids + presence for better clarity in the mix). An excellent choice for live use. My soundman loves this. Ground lift switch is effective to reduce hums. Boost toggle is extremely useful for plucking. I've run some effects through this unit via effects loop. Worked perfectly with Boss DD20 delay and chorus pedal. Battery indicator is a useful feature. The 9V battery lasts a handful of sets. I prefer using an external power adapter for a peace of mind. Power draw is relatively low so you can easily use standard guitar effects adapter or just tap on a 100mA output from your power supply unit.
I love the mute switch to silence the guitar inbetween breaks, avoid risk of unnecessary feedback. Everyone knows that the onboard tuner isn't very responsive. I'd usually mute my guitar look to snark clip tuner. It's rugged and comes with a nice carrying case. Weighs around 1kg.
All in one Acoustic solution
If you do not wish to depend on the sound guy as much (get his name to afford him due respect as a human being please) then this 4 in 1 is all you need with Bass, Mid, Treble, Freq-notch on EQ a tuner, a boost all in an active DI package (for around 60Ma with the tuner engaged) This is pretty much all you need.
LR Baggs Venue Acoustic DI
Very useful and nice sound for my acoustics steel guitars
My go-to DI
This is my #DI for acoustic guitar. It gives me all the EQ I need to get good tone from my instrument. I use the boost feature a lot for solos in the bluegrass band or for switching from backup to fingerstyle. The mute button is very useful indeed. Shame the tuner isn't so great. I would happily have done without that to get phantom power.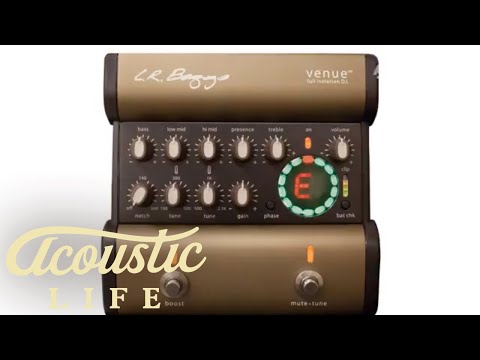 LR Baggs Venue DI Review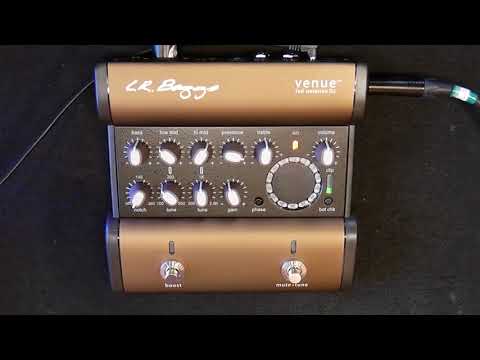 Strings Quick Demo : L.R.Baggs Venue DI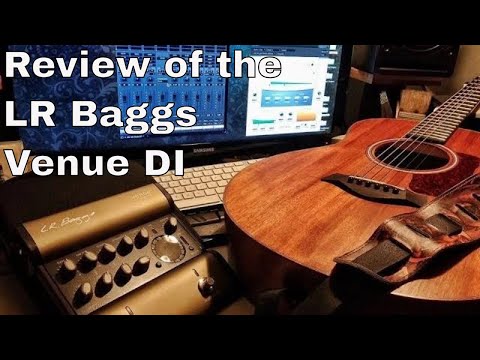 LR Baggs Venue DI. Review and playthrough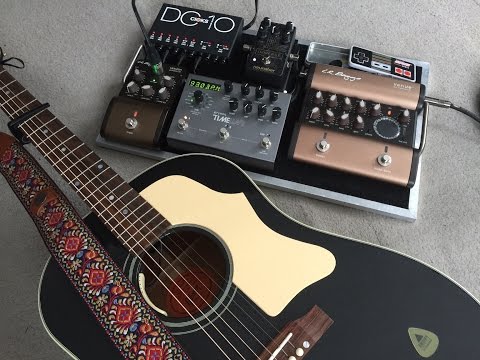 LR Baggs Acoustic Guitar Pedalboard Demo
Description
We created the Venue DI so you can travel light, set up fast and sound incredible anywhere you plug in. The Venue DI gives you complete control by combining a full-isolation DI output, 5-band EQ with adjustable low & hi-mid bands, variable clean boost and chromatic tuner all in one acoustic pedal. With its all-discrete signal path, hi-graded semiconductors and exclusive use of audiophile grade film capacitors, the Venue DI is on par with the world's elite preamps and provides a studio quality sound for the stage.
Anthem Acoustic Guitar Gold Award 2014Guitarist Gold Award
FEATURES:
Adjustable gain for both passive and active pickups 5 band EQ with tunable low-mid and high-mid bands Garret Null notch filter for effective feedback control Phase inversion for best sound and feedback control Full chromatic tuner with footswitch mute/tune function Adjustable volume boost footswitch Full isolation audio transformer couple DI 4 segment clip meter to visually optimize gain setting 4 segment battery )status gauge XLR and 1/4" outputs Series FX loop (separate jacks for send and return) Works with 9V battery or DC adapter (not provided)