The Regenerator is a chorus, a flanger and a phaser all in one sturdy metal stomp box. A stereo modulation pedal, the Regenerator features a diverse range of six different modes for you to explore, sure in the knowledge that the tone-preserving pa... read more
CHECK PRICE ON
Some cool sounds but nothing more.
I bought this second hand and it is little more than unremarkable. Some sounds do however occasionally excite.
Positives: The sounds are all passable at least. The step phaser provides an interesting and unique effect that is enjoyable to use, if a little volatile. In addition the pedal also has some interesting extreme settings including Electric Mistress like fixed flanger sounds.
Negatives: The effects are all highly sterile and do not interact well with other pedals. The pedal itself seems quite fragile as the knobs on them seem quite liable to breaking. Some sounds are at times a little tricky to hear such as the vibe.
All in all, one of the least interesting and bland multi-modulation pedals out there. For a bit more money a Line 6 M5 would provide more odd ball and better common modulation effects along with reverbs and delays.
Neat little box o' tricks
This pedal serves as my main flanger/phaser pedal but it features more than that. It also has a vintage and multi chorus; a vintage style vibe and (its USP) a step-phaser which stutters the signal based on the phaser setting. Great for live and studio uses!
Super Versatile for Modulation-Lite Players
6 different flavours of modulation means you'll never tire of this pedal. It won't completely sound the same as certain classics that specialize in one effect, but unless you want more than one modulation effect you won't have to swap pedals on and off your board when you want something different. Expression pedal option is a tasty bonus that I've never used.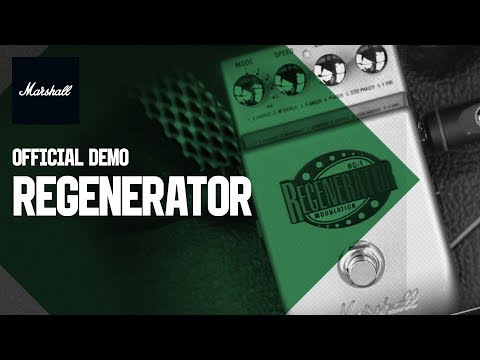 Marshall RG-1 Regenerator Pedal | Product Demo | Marshall
Description
The Regenerator is a chorus, a flanger and a phaser all in one sturdy metal stomp box. A stereo modulation pedal, the Regenerator features a diverse range of six different modes for you to explore, sure in the knowledge that the tone-preserving passive bypass is just a footswitch away. From the sweeping detuned tones of the vintage chorus to a phaser that swells with energy, listen as the Regenerator entwines itself around your sound. With full control over the speed, depth and regeneration, it's every modulation pedal you'll ever need.