Four Flashback delays combine into a comprehensive, TonePrint-ready mega delay with 15 different delay types and a looper.
The Flashback X4 Delay & Looper combines four Flashback delays plus a 40-second looper with 'undo' function into one amaz... read more
CHECK PRICE ON
Reviews
Trusted musician and artist reviews for TC Electronic Flashback X4 Delay
4.5
Based on 36 Reviews
WOW
I have owned many TC products and their proprietary digital delays like the 2290 are great while their models of analog gear usually left a bit to be desired having what I can only describe as a "plastic and artificial" quality that hurt my ears. The Line 6 models have this quality too, but at elast they model some of the other quirks of the real gear very closely. That said, I prefer TC for their pure analog dry signal path in all their higher end effects. So I bought an X4 on a whim, total impulse but thru ebay....
and now I have changed my tune. From personal experience I can assure you the Flashback delay series CLOSELY replicates the following pieces of gear (at least to my ear, which is pretty discerning): WEM Copicat 60s version (tube mode), Roland Space or CHorus Echo (Space mode), Boss DM2 & 3 as well as Ibanez's AD80 & 9 (Analog mode), EHX DMM (Analog Mod mode), MXR and Roland's grainy 8 bit rack delays from the late 70s and the crunchy sounding digital delay from the Yamaha SPX90 (LoFi mode)... the tap tempo s super responsive to quick, light toe touches even with my shoes off. The pedal is built like a tank too. Knobs are huge and easily tweakable with a J toed cowboy boot. Reverse mode sounds better than the line 6 DL4 reverse.
Bypass sounds transparent at factory setting (supposedly true bypass, must be true) and with the buffer engaged for trails there is very minimal tone coloration (I used a true bypass looper to test, I always do this with new gear to be sure its not stealing from or adding to my signal in undesireable ways and I built this small looper box from some spare jacks and a big toddle switch back when I first got my Radial Switchbone ABY so I could dial in the drag control to sound just like my bypass signal, but I digress). If you want complete transparency in trails mode make sure you hit a tube stage or reactive input like the Radial Dragster first. Running my ABY box out front of the X4 made the highs sound right to me again (not that the buffered top end is bad, just not the same as plugging straight in).
I have 2 complaints with this pedal, 1 it needs to be able to receive MIDI program changes to switch to ANY delay model, not just the 3 saved on your footswitches AND it needs to accept MIDI program changes to go into bypass. Its kinda annoying that in order to integrate this pedal with mthe MIDI setup I am working on I will have to leave her on ALL the darn time. Fuck me.
Overall? nice job TC!
UPDATE: I am so fond of this as a bread and butter delay swiss army knife that I got another one...
Beautiful delays, great looper, only one downfall.
I've been playing with this pedal for about four months and I absolutely love it. The range of delays absolutely blows my mind as they are all as good each other. After spending some time on it with a friend of mine who has had the pedal for a bit longer than me, I finally got a few presents i'm comfortable with. The only issue I have with this pedal is that you can only activate the looper using a manual switch. Other than that i absolutely adore this pedal.
With a little creativity, this pedal can become a multi-fx.
TC has always been known for great delay tone, and this pedal is no exception. While big, it packs a mighty punch, with not only amazing delay sounds, a 40-second looper, choruses, through-zero flanging, faux-reverb, doubling, distortion and vibrato. The key is their toneprint editor. Users can tweak virtually any parameter they want to get their perfect sound. With 4 toneprint spots open, a user can add a lovely sounding trichorus, flange, or vibrato, not to mention tons of delays. I use my X4 presets for chorus, delay, and fake reverb (short delay with lots of repeats at 30% level). It sounds great, and is easy to use. The looper also has lots of functions, and 40 seconds is more than enough for most players. A great bang for your buck, strongly recommended.
Recommended toneprints: Reeves Gabriel (basis for faux reverb) PGS EP-3 TC Tri-chorus, Double Dutch, Drive and Doubler, RingMod Bumblefoot Alienmimic and Dual Delay Andy Summers Walking-On-The-Moon Delay John Petrucci Aurora and MountainTop Guitar Center Big Grass Omar Rodriguez- Lopez David! The Dogs Pete Thorn Modulated Delay Sweetwater DM3-Plus
thanks for the toneprint recommendations, I wish more people would review the toneprints.... I just bought one of these (this is my first non-rack digital delay, always used real tape or 80s BBD pedals before if I was running out front of the amp) and was wondering where to start on the toneprint site this weekend. Very helpful review.
Amazing
Amazing Delay! Toneprints are awesome and the only downside is that it doesn't simulate analog delays well ... so if you make the delays time shorter while being turned on a analog delay pitches up the delayed signal ... but other than that a great thing
umm, BBD delays and some tape delays that use tape speed to adjust D time pitch up when you turn the delay time up, its one of their quirks... slow it down they pitch down. reference the end of Karma Police. That's cranked feedback BBD being jacked down analog delay thing that goes so low and so murky its a whole new sound.
Workhoarse
This is a fantastic lower end delay unit. It not strymon, but for 1/3 the $$, its well worth it.
Cool pedal
Packed full of different usable tones, a bit big for a pedalboard but as its so versatile, it allows me to drop an analog delay off my board.
I love mine, its really at least horsehoes and handgrenades close on all of the styles of echo it mimics and with the software you can make a lot of never before heard delays f that's your bag
Love The TAPE & ANALOG signal.
pros: Very Versatile pedal including the 4 toneprint selection.
cons: Only can set 3 presets. Would love to have more banks on presets for live shows.
I guess I am not a pedal guy because I am always asking myself what on earth I would do with 3 different delay presets. I can only think of 2 delays I would like tos tore, tape slapback and a long stereo ducking delay... I guess I am boring.
Underrated delay unit, with very handy features
Simple. It allows you to have three delays at a touch, with tap tempo. Delays come from a selection of high quality standard delays, with four slots for downloadable delays. Also the dam thing got me hooked on looping with the high quality built in looper. Wish it had, stacking but that's availiable on the next model up, wish it had trails, but that's not essential, and I wish it had more glitch, off piste crazy delay models. All in all 4/5
it does have trails if you want to engage the buffer
Does it? Is there a dipswitch or something? I must investigate, all the forum threads, and FAQs I read said you couldn't, I'll check it out
Excellent delay with multiple preset, but horrible midi implementation
Cannot turn off /disable the delay through midi
I wish I ahd known this when I bought it as I am building a MIDI system. I am so pissed reading this.
So many amazing delay tones
I can't stop tweaking this seriously outstanding delay. It has three presets, the ability to have 1/4, 1/8th or 1/16th based notes, controlled feedback, level and time, as well as tap tempo. It even provides a looper with pretty simple functionality if you want. Overwhelming bit of gear.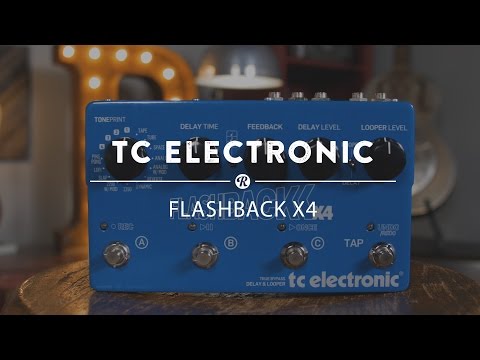 TC Electronic Flashback X4 | Reverb Demo Video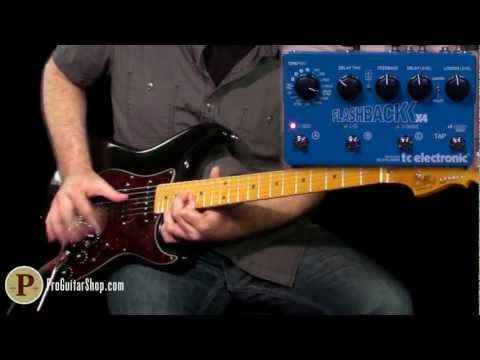 TC Electronic Flashback X4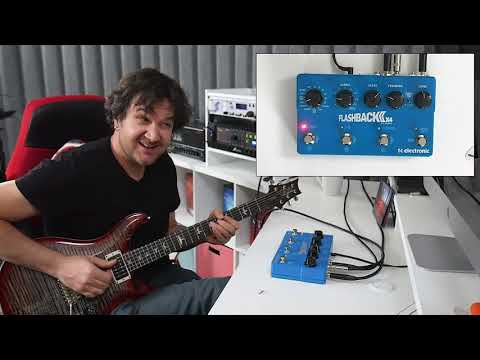 TC Electronic NEW Flashback x4 Review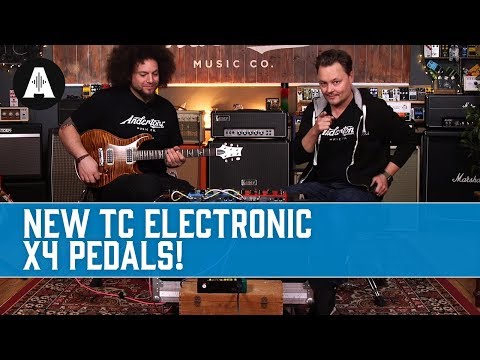 New TC Electronic X4 Pedals - Got Ambience?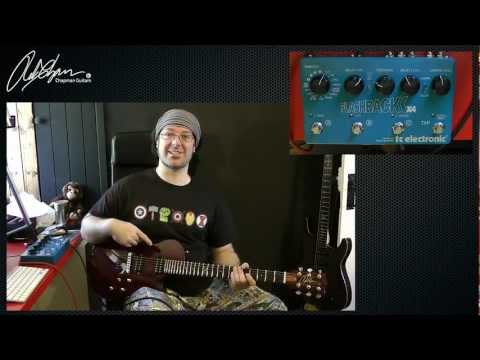 TC Electronic Flashback X 4 Delay And Looper Demo
Description
Four Flashback delays combine into a comprehensive, TonePrint-ready mega delay with 15 different delay types and a looper.
The Flashback X4 Delay & Looper combines four Flashback delays plus a 40-second looper with 'undo' function into one amazing pedal that takes delay to a place it has never been. TC Electronic made sure the Flashback X4 delivers the legendary TC quality at every turn. From the awesome digital 2290 sounds to beautiful analog tape echoes and more exotic vibes of a reverse delay, it contains virtually every delay sound under the sun - past, present and future. It's even equipped with four TonePrint slots that can be loaded via smartphone or USB port.
This cornucopia of delays also allows players to switch between three customs presets that can be as different and varied as they need them to be. The tap tempo allows you to easily set delay times, sync up with a drummer, or match delays to your guitar rhythms or solo ideas without taking your hands of the guitar or bending over the pedal. Simply tap the tempo with your foot and get on with things! It also allows for MIDI clock sync - perfecting delay times to your exact wishes. You can change presets and control X4 externally, for example if you wanna have it in a rack or safely in your backline.
In Flashback X4, the delay engine is completely separate from the one handling looping so there is total dedication to the sound you want to get and the cool ability to add delay to your loops. Flashback X4's total dedication to delay shines brightly in the expression pedal input. Many guitarists dream to have direct control over delay parameters and Flashback X4 gives you exactly that. But it's just not one parameter you can control, you can choose to control either the delay time, the feedback or the delay level of your sounds, giving you unprecedented control. Whatever your set-up or situation, Flashback X4 can adapt and guarantee optimal signal integrity - via small dip switches, Flashback X4 can be set to either True Bypass or Buffered Bypass.
Specifications
TonePrint enabled
Beam enabled
Pedal simple - don't read, rock!
Three Presets
Tap Tempo
15 Delay Types
40 second looper with undo function
Independent loop and delay engines
True Bypass (optional buffered)
Analog-Dry-Through
Expression pedal input
Stereo in- and output
MIDI enabled
Subdivision selector including dual delay
9 Volt DC power supply included