The Nemesis was created as the end-all, be-all delay, but with a very serviceable twist—its user-friendliness. The pedal has a million different settings and functions, but you'd never know it by looking at the front panel. Trust us—there's so muc... read more
CHECK PRICE ON
Reviews
Trusted musician and artist reviews for Source Audio One Series Nemesis Delay
5.0
Based on 5 Reviews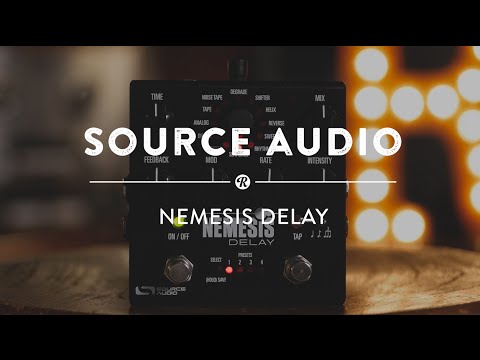 Source Audio Nemesis Delay | Reverb Demo Video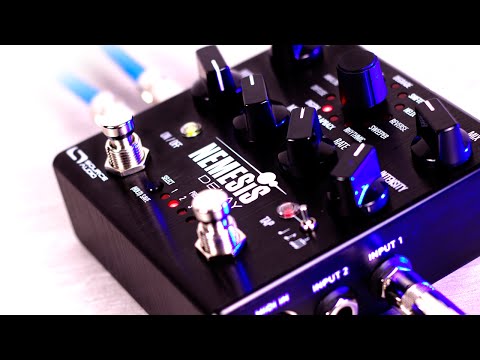 Nemesis Delay: Official Source Audio Demo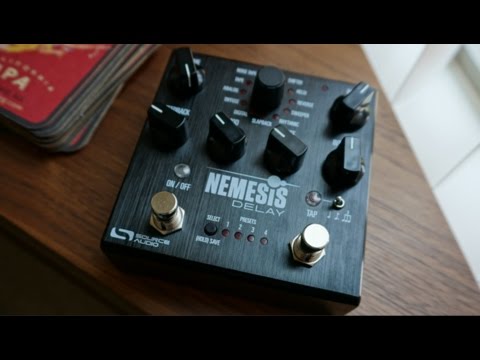 Source Audio Nemesis Delay, demo by Pete Thorn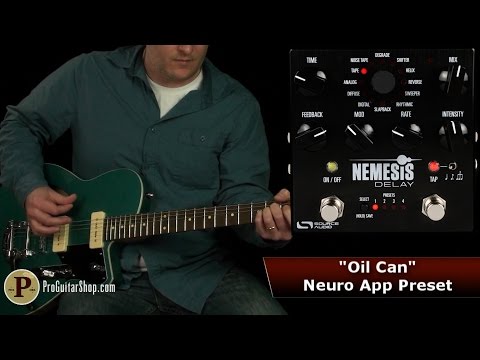 Source Audio Nemesis Delay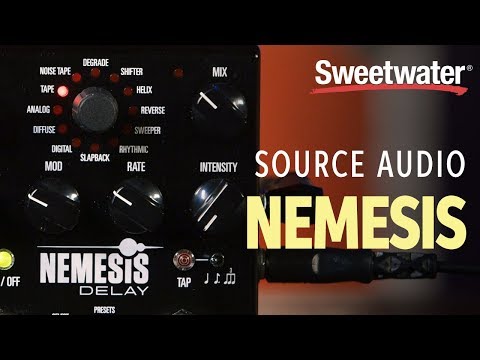 Source Audio Nemesis Delay Pedal Demo
Description
The Nemesis was created as the end-all, be-all delay, but with a very serviceable twist—its user-friendliness. The pedal has a million different settings and functions, but you'd never know it by looking at the front panel. Trust us—there's so much going on with the Nemesis that you may never buy another delay.
Readily apparent are the 12 available modes—Degrade, Shifter, Helix, Reverse, Sweeper, Rhythmic, Slapback, Digital, Diffuse, Analog, Tape and Noise Tape. Not readily apparent are the 12 ADDITIONAL delay algorithms once you hook the Nemesis to Source Audio's Neuro App. These 24 total delay engines offer every single type of delay you could imagine, plus plenty you couldn't.
Most of the controls are self-explanatory as far as delays go:
Time controls the length of the delay repeats, from very little to longer than you'd ever use. The Tap switch overrides this control.
Feedback controls how much of the repeats are fed back into the delay for reprocessing. Turning the control up increases the number and intensity of repeats.
Mod and Rate control the modulation capabilities of the delay engines. The range of modulation is pretty drastic, and at higher settings, it gets downright experimental.
Intensity controls a different parameter depending on which mode the Nemesis is in.
Mix offers a wet-dry feature. When all the way down, only the dry signal is heard. All the way up, and only the repeats are heard.
A Subdivisions toggle switch changes how the Tap switch operates: quarter, dotted-eighth and triplet subdivisions are available.
The Tap switch can also be used as a "freeze" control, which grabs the repeat and holds it in place. This feature excels in modes with heavily modulated repeats.
The edges of the Nemesis contain just as many goodies as the engine—full MIDI capabilities (In and Thru), an auxiliary pedal jack with an expression slide switch, USB mini jack, Hot Hand control input and full stereo in and out round it out. The stereo ins and outs can be reconfigured as an effects loop for external effects processing.
Up to 128 presets are savable and recallable via MIDI, but the unit itself features eight presets, accessible via the lower-center portion of the control panel.
The Nemesis wouldn't be a Source Audio pedal without full Neuro App customization, and the Nemesis has these features in spades. The Neuro App contains 12 additional delay engines, plus a deep editor for you true tweakers out there. Each of the additional 12 patches can be "burned" to the main unit, overwriting any existing algorithm you use the least. You can also share and download fine-tuned presets with other Neuro users.